---
QB establishes another home sweet home on the Gold Coast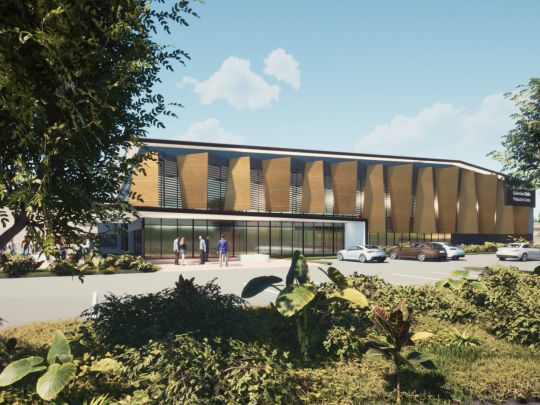 Queensland Ballet (QB) Artistic Director Li Cunxin AO's long held dreams of creating a home for ballet on the Gold Coast are finally coming true.
In addition to their homes in Brisbane, the ballet company has unveiled exciting plans to officially plant their roots on the Gold Coast, a milestone that Mr Li has been dreaming of since joining the Company in mid-2012.
"To truly be Queensland's ballet company, we strive to engage meaningfully with the wonderful communities that make up our state.
"We feel so connected to Brisbane, but we also want to make Queenslanders proud of their state ballet company, no matter where they are from. I am thrilled to announce that we are officially calling another part of Queensland home, and will be establishing our roots on the Gold Coast from 2022," said Mr Li.
These roots will encompass a home company presence at Home of The Arts (HOTA) and a production centre to be built at Yatala.
QB has worked closely with HOTA for many years presenting performances and community engagement initiatives. In 2020, the company performed a limited season of Giselle on HOTA's outdoor stage in October, after having to postpone the planned 2020 season due to uncertainty surrounding COVID-19. The official partnership will see HOTA present two QB seasons in 2022, with plans for 2023 and beyond already in play.
"After such a positive reception from our Giselle season, QB and HOTA have harnessed our chemistry, and I am beyond excited to announce that both seasons at HOTA in 2022 will be exclusive to the Gold Coast: The Sleeping Beauty in February and Rooster/B-Sides in November," said Mr Li.
"We are so very grateful to The Gold Coast Mayor Tom Tate, Criena Gehrke and her team at HOTA and our Gold Coast community. Our new partnership is really going to open up some wonderful, collaborative opportunities and we can't wait to welcome our audiences and community to HOTA - from the Gold Coast and beyond."
HOTA CEO Criena Gehrke said she was excited for the partnership and looked forward to welcoming QB into their new home.
"HOTA is beyond delighted to welcome QB to their home away from home on the Gold Coast. Our audiences have always loved Queensland Ballet and we have a strong dance community here, so this partnership just makes perfect sense," said Ms Gehrke.
"Li and Queensland Ballet share our values and vision of engaging deeply with communities and the absolute power of great art to bring us together and make a difference to our world. Over the coming years, HOTA and QB will continue to develop our partnership, creating new opportunities for both audiences and artists. The Gold Coast is in for a treat."
With HOTA to provide a home for Queensland Ballet on stage, the planned Production Centre in Yatala will enable QB to manage its production assets – sets, costumes, props – and in time, facilitate the creation of these world-class productions. Currently at the initial planning stage, the site will be one of Queensland Ballet's three homes. Together they will enable the full cycle of on and off-stage capacity development for the Company and support the broader creative industries community in Queensland.
"I couldn't be more excited to announce that QB is now a land-owner. Thanks to the visionary philanthropic support of Roy and Nola Thompson, we have recently purchased some land in Yatala, Gold Coast, to realise the third site in our Three Site: One Vision strategy," said Mr Li.
"The Roy and Nola Production Centre on the Gold Coast will join our Thomas Dixon Centre in the West End and our Academy at Kelvin Grove, as the final piece of our puzzle. TDC is our headquarters and where our dancers and main enabling teams reside and flourish, and where our new Studio Theatre will host all our studio seasons. The Academy is where we nurture our young, emerging dancers and our leading artistic teaching faculty."
"Our Production Centre will house our productions: sets, costumes, props and, in time, our arts-makers. Currently, our valuable assets are spread about and stored in less-than-ideal conditions. This Centre will contain a climate-controlled environment and bespoke storage capability, which is a big game-changer for us."
City of Gold Coast Mayor Tom Tate said the announcement of QB's establishment on the Gold Coast signifies a ground-breaking milestone for QB, HOTA, the Gold Coast and Queensland.
"There is only one word to describe this announcement: historic," Gold Coast Mayor Tom Tate said.
"This decision will underscore our city's commitment as an arts and cultural heartland, and I warmly thank Queensland Ballet for their vision and passion for the Gold Coast."
For more information on HOTA, visit https://hota.com.au/