---
Dance for Parkinson's
Research suggests dance can improve cognitive performance and reaction times, making it a useful treatment for a number of conditions, including arthritis, dementia, depression and Parkinson's Disease.

In 2013, Queensland Ballet launched a pilot program offering specialised dance classes to people with Parkinson's Disease, based on the internationally recognised Dance for PD® program.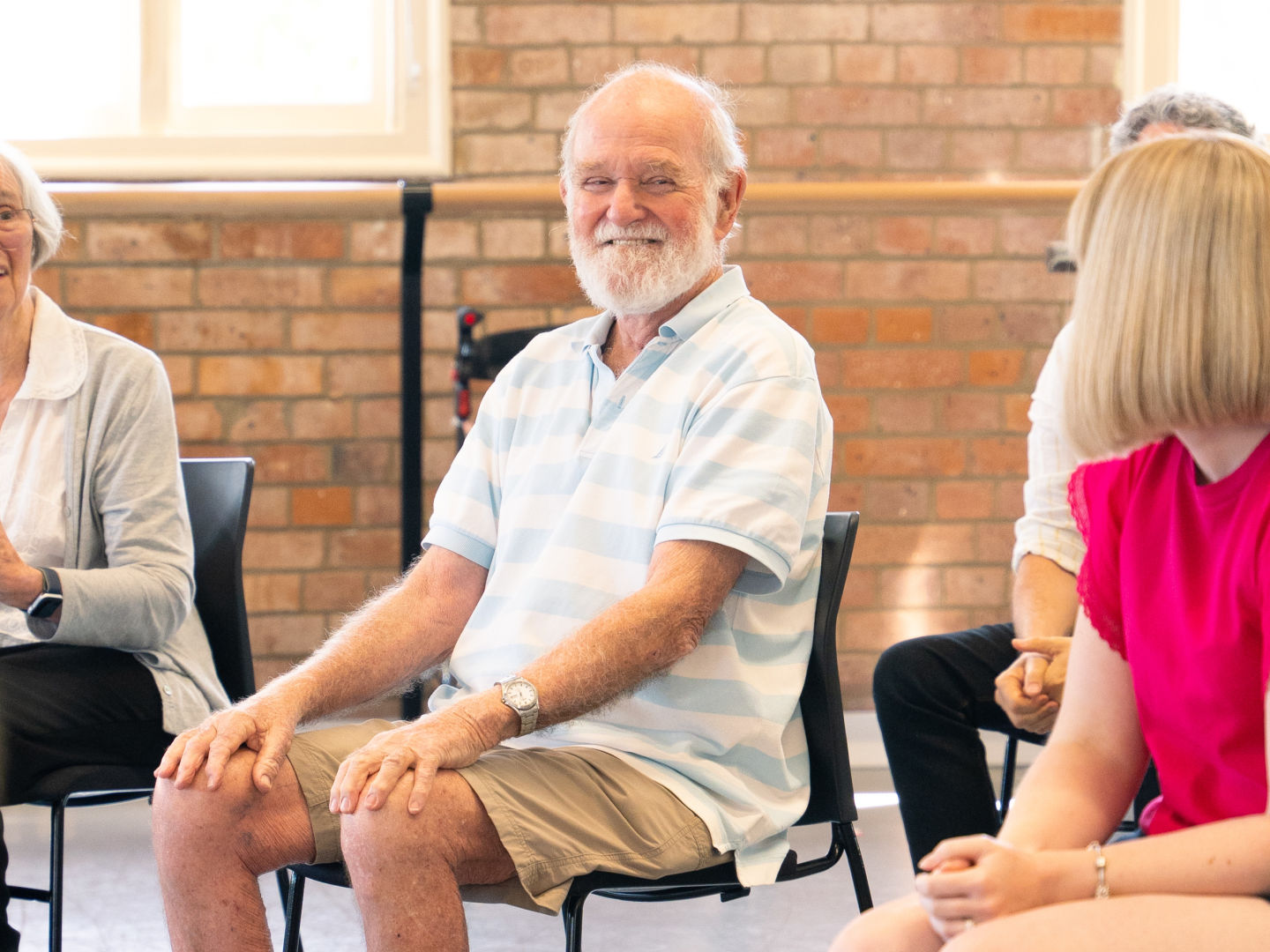 Pilot program
The pilot program ran from October 2013 – July 2014, where Queensland Ballet partnered with the Queensland University of Technology – Creative Industries (Dance) and Health (Movement Neuroscience), and the University of Queensland – Health and Behavioural Sciences (Physiotherapy) faculties to conduct initial research into the effects of these dance classes.

This was the first study of its kind in Australia with results concluding that classes affected people living with Parkinson's in multiple ways - including valuable physical, emotional, social, and cognitive benefits.
read the pilot report
#Class costs
Anyone living with Parkinson's, their carers, partners and friends, are welcome to participate in these wonderfully immersive artistic experiences.

Queensland Ballet's Dance for Parkinson's classes are made available with the support of Dance for Parkinson's Australia.
Casual Class
Single Class Concession $22.50
4 Class Package
(This package is only available for Dance for Parkinson's classes)
Concession $54
10 Class Package
Concession $ 136
Guest / Carer
Free
One carer/supporter admitted per paying participant
Read terms and conditions here.

Here's what participants are saying
---
"Without [Dance for Parkinson's] my life would be quite different. It keeps me noticeably more flexible and balanced… [I am] more cognisant of my facial expressions, each arm movement and finding my core strength. I leave each class lighter, happier and grateful to have a shared sense of belonging."
- Yvonne Muller
"When I am in the class, I forget I have PD. Everything feels back to normal. Everyone is smiling which makes me happy too. I don't trip up as much and there are class volunteers to assist you. Dance for Parkinson's has changed my life for the better. I have made good friends."
- Peter Thomas
"The Queensland Ballet Teaching Artists are so gentle, professional and provide an uplifting program. I love the live music! It is so uplifting for my soul and makes me float into a wonderful mental and physical space. The impact it has on my physical and mental well-being gives me fuel for the coming week."
- Peter Fahey
"I have been attending since 2015 and it's the highlight of my week. There is a strong sense of community and friendship. The classes provide us with many physical benefits. More importantly, I leave the classes with a sense of calmness and wellbeing along with energy to tackle the week ahead."
- Julie Trewin
"I just love it! From the Teaching Artists, volunteers and my fellow participants, to the creativity and fabulous music. It is sublime. It is great to catch up with the other participents on a regular basis where we encourage and support each other."
- Elisabeth Kurth
Queensland Ballet thanks The Cory Charitable Foundation
---
We warmly and gratefully acknowledge the support of The Cory Charitable Foundation, whose generous donations to our Dance for Parkinson's and Community Engagement Regional Tour enables us to share the benefit and joy of our artform through two of our valuable health and community programs. Queensland Ballet is committed to making dance accessible for as many people as possible - our aim is to enrich lives and contribute to wellness across society. Donations like these have an incredible impact! In the words of just one of our Dance for Parkinson's participants:
"the impact it has on my physical and mental wellbeing gives me enormous joy and fuel for the coming week…it is so important to my Parkinson's management program and ongoing wellbeing".
Our Community Engagement Regional Tour travels across Queensland bringing ballet to the bush for people of all ages and abilities. From tiny sun-drenched towns to bustling regional cities, The Cory Charitable Foundation's donation enables tours to these regions by providing budget relief and supports the running costs.
With wellness and health at our heart, Queensland Ballet offers heartfelt thanks to The Cory Charitable Foundation for their generous support in these community-based initiatives.
If you would like to know more about how you can be involved in Queensland Ballet's philanthropic program, please call 07 3013 6660, email foundation@queenslandballet.com.au or click the button below to donate.
donate
#The Thomas Dixon Centre, home to Queensland Ballet
Queensland Ballet's home is at the Thomas Dixon Centre in West End.

406 Montague Road
West End 4101