---
Alumni Spotlight: Callum Mackie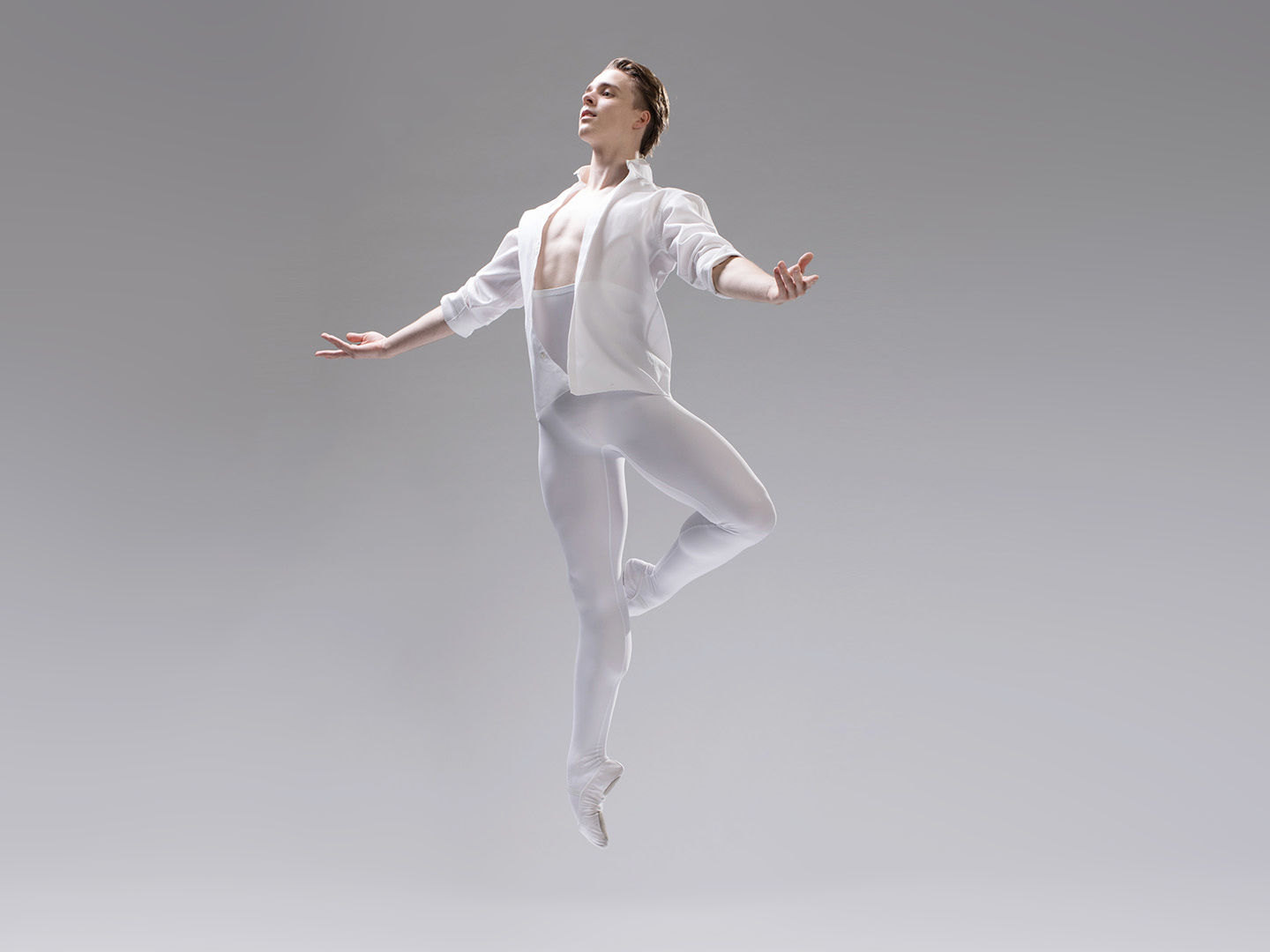 Callum Mackie
Jette Parker Young Artist Program
Queensland Ballet
Adelaide, SA
Callum Mackie has always been known as the dancer among his friends. Growing up in Adelaide, at age 10 he began classes at his local dance school, two years after his sister started ballet.
"My family weren't really sport-orientated. I did hip hop classes for a year but wasn't originally interested in other genres," he recalls. "I know there's a stigma against boys who dance, especially in Australia, but I never really had any trouble for being a male dancer growing up."
Callum's dance school held an end of year concert performing around 30 pieces, which sparked an interest in trying other styles of dance.
"I discovered a love for the performance aspect of dance. I started classes in contemporary, tap, jazz, ballet, musical theatre and, of course, my hip hop," Callum says.
It was a few years later, at age 14 that Callum started performing in ballet shows outside of his school. It was around the same time that he decided to consider the artform as a possible career, tossing up between ballet and medicine.
"I really liked the way I felt when I danced but I also liked helping people. My family always placed a lot of importance on schoolwork and many of them were in the medical field, so I thought I'd follow in their footsteps," Callum says. "Then one day when I was 15, Paul Boyd [Head of Senior Program and Resident Choreographer at Queensland Ballet Academy] came down from Brisbane to help one of my teachers (his childhood dance teacher too!) put on the Frozen ballet. He asked if anyone wanted to be a dancer when they were older, and I put my hand up," Callum says.
One audition later, Callum was moving his life up to Brisbane at the age of 15 to join Level 2 of the Upper School.
"It was a huge change to move into a homestay in a new state and a new school," Callum admits. "Queensland Ballet Academy was a really comforting place to be though, and helped me through the whole process. All the staff are so accommodating, but I did miss my family a lot, and still do!"
With both dance and medicine still on the table for possible careers, Callum found school to be intense but was able to manage by learning how to schedule his time effectively.
"Within a month I knew that I loved my dancing and wanted to chase that dream – I figured I would never stop learning and could pursue medicine later if I wanted," Callum recalls.
With this in mind, Callum auditioned for the Pre-Professional Program and was accepted. He participated in the program for two years before moving into the Jette Parker Young Artist Program – his first experience as a professional dancer.
"It's a nerve-wracking process because the harshness of the artform means you can lose a lot of friends along the journey because they get injured, leave, or pursue another pathway," Callum admits. "We also started doing more things with the Company, and initially I saw them as these big, scary dancers who were way older and more experienced than me. I felt intimidated at first, but going into it with all my friends from Upper School made the transition more comfortable."
Now 10 months into his first year as a Young Artist and not having performed in 2020 yet, Callum is looking forward to getting back on stage following COVID-19 lockdown.
"I want to keep rising and doing the best I can, but I can't wait to get back on stage and do what I love – performing," Callum exclaims. "The one thing I'd been falling in love with time and time again since I was 10 had been put on hold, so this year I felt I had been missing a part of myself. It'll be such a good feeling to get back in front of an audience again!"
In the future, Callum would like to play a princely role, in a production like Sleeping Beauty, or Romeo in Romeo and Juliet. For those who question the masculinity of boys who dance, Callum has some advice:
"Look up any ballet on YouTube and watch the male dancers. It's one of the strongest things you can do. For those already dancing, don't give up – stay focused and you'll find the right place that clicks with you."
Photography by David Kelly.