---
Q&A with Academy Admissions and Well being Manager, Nicola Pierrepont
Meet Nicola, Academy's Admissions and Well being Manager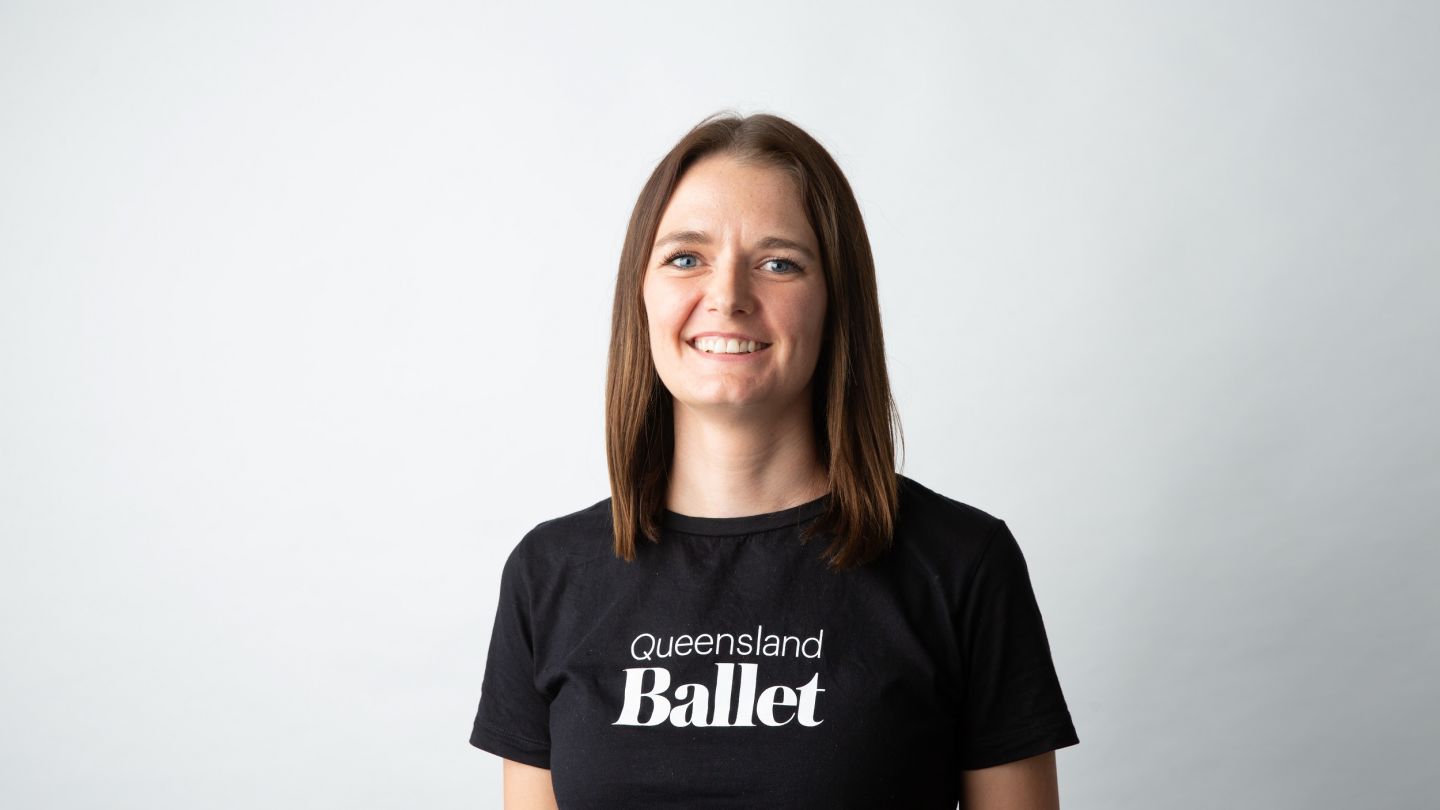 While training and nurturing the young artists of the future is at the centre of Queensland Ballet Academy, students also enjoy a holistic approach to health and well being. Pilates and specialised body conditioning coaches, sports psychology and sports nutrition sessions, and access to an onsite Queensland Ballet Physiotherapist for the upper school and Pre-Professional Program students are all part of the training.
Academy Admissions and Well being Manager Nicola Pierrepont is the friendly, familiar face who oversees and supports the students throughout their journey, from academic studies to dance training to performances to health and well being. We spoke with her about what her role involves and what she loves about it.
Hi Nicola! Tell us about your role as Academy Admissions and Well being Manager.
We have nearly 250 students enrolled across all our programs this year so no two days are ever the same, which I love! I oversee the student journey from the minute they are given an offer to attend, throughout their training, and right up to graduation. This includes managing enrolment enquiries, the administration and processes for student enrolments, progress reports, the Homestay Program, as well as checking in with the students and liaising with their families regularly. It's important to me that the students leave with a strong sense of achievement. I see them as the dancers, teachers, choreographers and audience members of the future and I feel privileged to be a part of their journey.
What inspired you to take the position?
Prior to working at QB Academy, I was a secondary school dance teacher for 10 years working in Darwin, Norway, and Adelaide. I also held a leadership position in Senior School Pastoral Care in Adelaide, which meant I worked closely with school counsellors, teachers, parents, and the students to help with any challenges they encountered in their senior schooling, to enable them to follow their individual pathways to success. I found that I loved this part of my job and got great feedback from the staff and the families I worked closely with.
My role here at the Academy is quite unique and allows me to combine my passion for dance with supporting students on their journey, so it really is the best of both worlds for me.
Tell us about your dance background.
I trained in ballet, contemporary and drama in my youth, then completed a degree in contemporary dance and choreography in the UK. It was important to me to maintain my classical and contemporary training whilst exploring the various career options in dance.
In 2010, I moved to Australia to complete secondary school dance and drama teacher training at Edith Cowan University in Perth, which was a fantastic experience as I was at the WAAPA (Western Australian Academy of Performing Arts) campus. There I found I wanted to educate and support the artists of tomorrow.
Favourite part of your day or week?
Anytime I watch the students in class or in a performance - they inspire me every single day! The students literally transform from children into artists – it's amazing. They're incredibly talented, have a strong work ethic and their commitment is so high. I'm really lucky to work with students that are kind and caring and supportive of each other, which I think says a lot about the culture we have here at the Academy.
Academy highly prioritises its students' well being. How does it do this?
The Upper School Academy Program and Pre-Professional students have access to Queensland Ballet's onsite physiotherapy and performance health services at no additional cost to the student, thanks to the support of generous donors. The students also have regular scheduled Pilates and body conditioning classes with specialised coaches, who used to be dancers themselves.
Parents/carers have access to a list of recommended health practitioners that practice locally in Brisbane, working regularly with our Company Artists and Academy students. QB staff have professional development in child safety, protection, and student well being.
The teachers have high expectations, but this is balanced by a high level of compassion for the students and a strong understanding that student well being is an integral part of their success.
As well as this, my door is always open! The students know they have me to talk to if they need further support, or to pop in to chat if they have any questions about the program, or if they're finding something particularly challenging that day. We also work closely with the Kelvin Grove State College staff and Guidance Officers to look after the students that train with us.
How is a typical school day structured for the students?
The Pre-Professional Program (PPP) students align with the Company Schedule, so have classes from 10am – 6pm with Company class on Saturday morning.
The Academy Program Upper School participate in dance training from 8am to 1.15pm from Monday to Saturday. Upper School students attend academic classes on site at Kelvin Grove State College in the afternoon until 4.45pm.
The Academy Program Lower School attend academic classes at Kelvin Grove State College between 9am to 1.15pm, before walking to the Academy building to attend dance training from 2pm.
Additionally, the Foundation Program welcomes students in years 3-6 from across Brisbane to attend classes after school. This program offers flexibility for families who could be travelling to us from across Brisbane, so they can work with our fantastic teachers in our world-class facility in a structured training program between 1-4 times per week.
There is a strong connection between the Queensland Ballet Company and the Academy. How do they work together?
The PPP students train and perform alongside the Company as part of their course, which is always really exciting. Sometimes our younger students perform child roles in Queensland Ballet productions, such as in The Nutcracker, and we also take students on excursions to see the dress rehearsals of mainstage productions. The students get to watch the Company Artists and sometimes also see their fellow students onstage, which is inspiring as well.
I've seen Company Artists come and say hello to our students, and they love that connection. Also, our Resident Academy Choreographer, Paul Boyd (former Queensland Ballet Principal Artist and Ballet Master), has organised for some of the Company Artists to write letters of advice to share with some of our students, which is so lovely!
And finally, what advice would you give to any young dancers who may be interesting in studying at Academy?
Give it a go! I am always happy to chat with prospective families about what we offer at Queensland Ballet Academy. Our staff and students are very welcoming and I encourage young dancers to try our holiday programs to meet our amazing teachers, train in our beautiful facilities, and experience everything our Academy has to offer.
Interested in pursuing a career in professional dance?
Ensure you get off on the right foot with a ballet academy suited to you.