---
Calling all young dancers!
Queensland Ballet Academy's popular Ballerina Preparation Week and Boys' Week are a great way to experience what's on offer.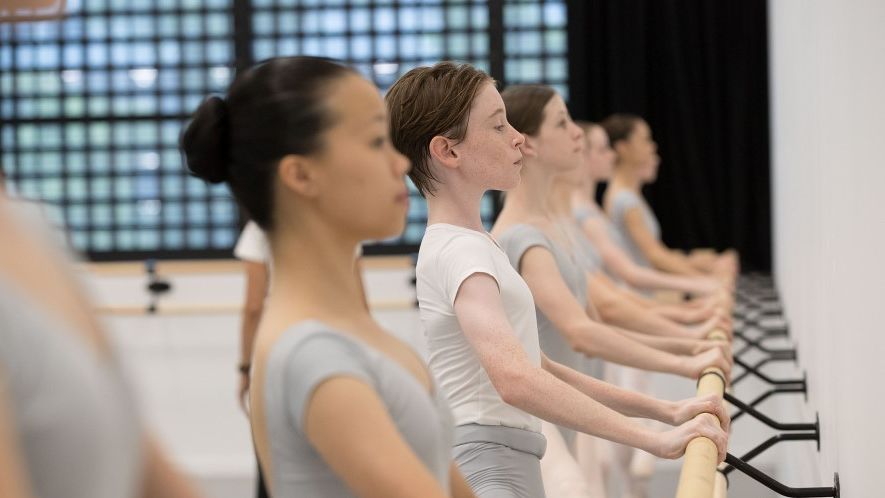 Calling all young dancers: there's a School Holiday Program coming up you won't want to miss!
Queensland Ballet Academy's popular Ballerina Preparation Week and Boys' Week are coming up in April, offering emerging ballerinas and ballerinos exclusive access to professional training and insights into the world of dance from the Academy's outstanding facility. In addition to training and the opportunity to learn repertoire from Queensland Ballet productions, expect sessions in stage make-up, body conditioning, and sports psychology with industry experts.
We spoke to Academy students and former attendees Bonnie and Cooper to find out exactly what to expect.
Hi Bonnie and Cooper! Tell us a little about how you fell in love with dance.
Bonnie: When I was nine-years-old I won the Suncorp Wish upon a Ballet Star competition, and part of that was watching Queensland Ballet take a ballet class onstage before a performance. They were incredible! I think that was the moment I knew I wanted to do ballet.
Cooper: It began when I saw The Australian Ballet perform The Sleeping Beauty. Later, I had the experience of being onstage with Queensland Ballet in The Nutcracker at QPAC, first as a reserve, and the following year in a children's role, and I thought – wow! This is what I want to do.
You've attended Ballerina Preparation Week and Boys' Week at QB Academy before. What did you love about it?
Bonnie: I loved it because it was so different to everyday training, as it allowed us to see more of the professional dance world rather than just our ballet class and work. We learned fascinating things like how to do stage make-up and pointe shoe care. We also learned stage repertoire that we probably otherwise wouldn't learn; one of the things I really enjoyed learning was the Sugar Plum Fairy solo variation from The Nutcracker.
Another thing I found really important was having access to the many guest teachers. It's so important for young dancers to learn from guest teachers because each and every teacher gives you corrections which are like little gifts to take away and use to better yourself.
Cooper: I was in the intermediate group so we were learning much harder technique than we learn in everyday class. The different teachers had different influences and offered different styles, so it gave us more opportunities to learn, and a lot more variety, which was great.
What did you enjoy about the environment?
Bonnie: I knew a lot of people from the Academy, but there were also people who were from interstate and all over Australia. It was really lovely because we were all coming together and dancing alongside each other, and we were all working towards the same goals.
Cooper: Having known many people going in, it was very welcoming, and the staff here are incredibly nice and friendly. We know we can always go to them for help. It was also great having a variety of teachers who were understanding and knew exactly how to assist and correct us. All the teachers from Queensland Ballet are at a professional level.
How has the experience influenced your daily practice?
Bonnie: I found I walked away focused and inspired, because it showed us what we're really working towards, which is a career in professional dance. I think it's important to show dancers in training what they're working towards every once in a while, just to remind us what the end goal is.
Cooper: With the variety of teachers came a variety of corrections, so with the allegro I found I could really focus on how to get more power out of my jumps. We had Camilo Ramos, a (now former) Queensland Ballet Principal Artist teach us excerpts from Swan Lake, and he gave us some really great tips and tricks on how to get power in my jumps.
You're both in Level 3 (Year 10) at Academy. What are some highlights from your time there so far?
Bonnie: We were both in the Paul Boyd's Defile in last year's Summer Soirée (a one-night-only performance event where Academy collaborated with acclaimed artist Michael Zavros). It was definitely a special experience. I think it made everyone in it feel like they were part of a bigger family or part of a legacy.
Cooper: Especially when the curtain on that Lyric Theatre stage went up and we saw thousands of people in the audience… it was an incredible experience. As well as Summer Soirée and The Nutcracker, I also performed in Queensland Ballet's Cinderella, and Romeo & Juliet in 2019, which was amazing.
And finally, any advice for those considering joining Ballerina Preparation Week or Boys' Week?
Bonnie: Definitely attend! It's an amazing experience. Be prepared to work hard and have fun: it's really inspiring and motivating, and you'll walk away not only a better dancer but with so many new ideas and new friends.
Cooper: Everything you get out of it is information, information, information, and after that it's just about applying it. So if you're looking for tips and tricks and better technique, or you're just looking to have fun, meet other male dancers, and learn more, come along!
Don't miss Ballerina Preparation Week, and Boy's Week coming up this April!