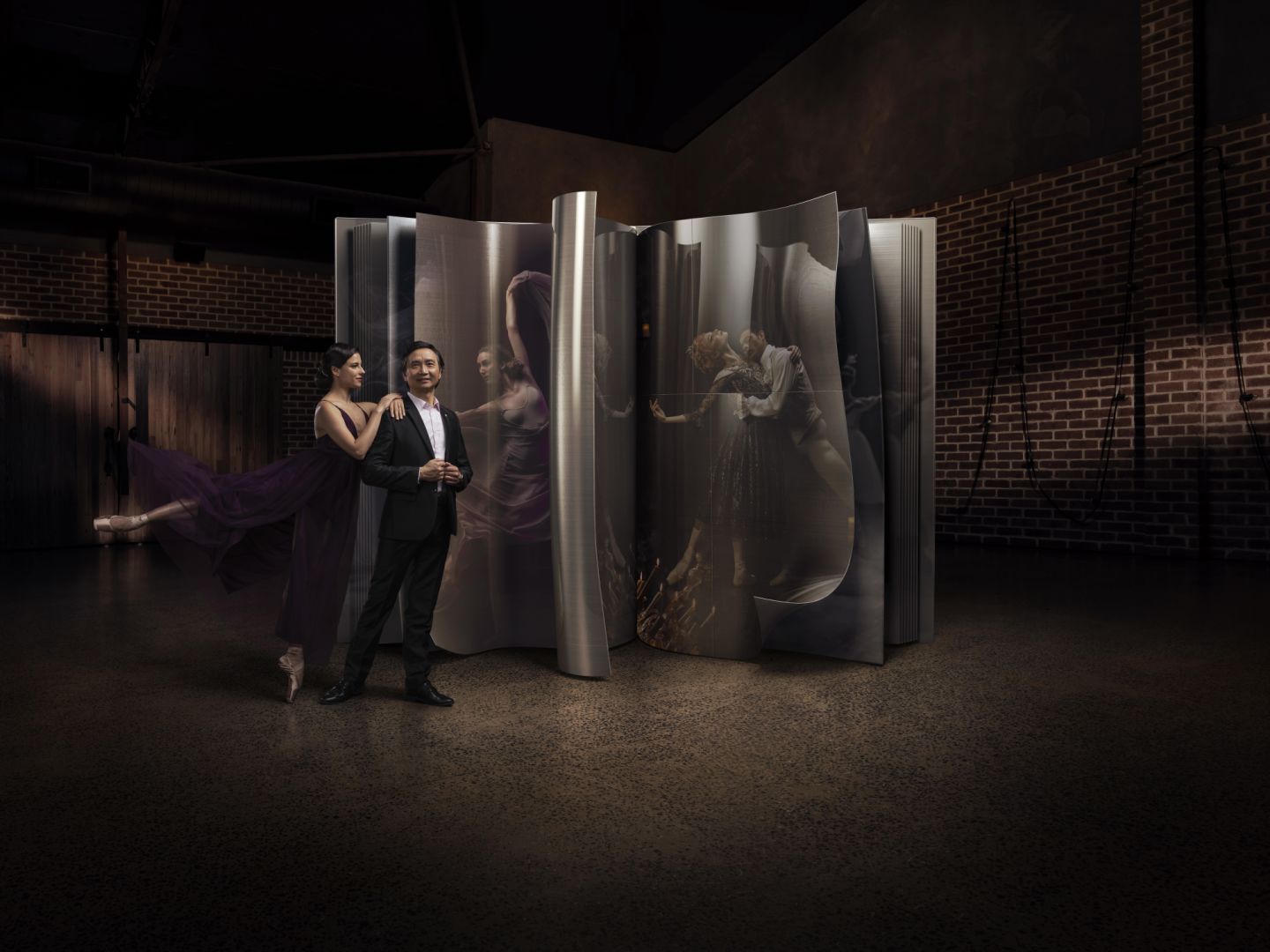 In 2022, Queensland Ballet unveils a Season of celebration, change and bold ambition, as the Company reflects on a decade of directorship under Li Cunxin AO.
Artistic Director Li Cunxin joined QB in mid-2012 with big dreams to see the Queensland born-and-bred Company thrive on and off the stage. A decade on, QB has experienced extraordinary growth, with 60 dancers, a world-standard repertory of ballet works, and an internationally renowned Academy training curriculum, all situated across three world-class homes at the Thomas Dixon Centre, the Academy and a newly acquired site slated for a Production Centre in Yatala.
"In Season 2022, we celebrate Queensland Ballet's ambitions and bold vision for the future, which is why at the end of these incredible 10 years, it has not been a difficult decision to renew my directorship of this beautiful Company." said Mr Li.
"My life changed the day I walked into Queensland Ballet as its fifth Artistic Director. This journey has enriched my life and offered so much fulfilment and joy, as well as the inevitable challenges that have taught me so much. Ultimately though, it's the people I have met along the way, the people who have believed in this journey of ours and ultimately, it's their faith that continues to inspire me every day to dream fearlessly.
"In this unmissable Season, we celebrate our incredibly talented dancers, our students, our teams in production, wardrobe, artistic and business, and our venues and orchestra partners, all of whom collaborate each day to produce this magic that keeps us all on our toes," Mr Li added.
The first show for Brisbane audiences is Giselle, a tale of supernatural passion, vengeance and the power of love which has held audiences spellbound since its Parisian premiere 150 years ago.
"Audiences will experience love, betrayal and tragic redemption in this timeless Romantic ballet complete with exquisite choreography, luminous costumes and enchanting score. But one of the most exciting elements of this season is that it opens in Toowoomba and tours regionally before landing in Brisbane. This echoes the journey that Giselle undertook in my first season in 2013, so it's wonderful to retrace those steps." said Mr Li.
"In June, I'm thrilled to unveil our triple bill, Li's Choice, featuring three personal picks including We Who Are Left by QB Resident Choreographer Natalie Weir, Glass Concerto by QB Chief Ballet Master Greg Horsman and the lively ragtime ballet Elite Syncopations by Sir Kenneth MacMillan.
"I'm certain these works will captivate and inspire you as dramatic contemporary, neo-classical and ragtime ballet collide in this exhilarating triple-bill," Mr Li added.
In July, QB celebrates the opening of our Thomas Dixon Centre's new theatre with its fifth season of Bespoke. Featuring works by Australian choreographers Greg Horsman, Petros Treklis and Stephanie Lake, audiences will delight in three world premieres that explore the vibrant world of contemporary dance.
"Bespoke offers a sublime merging of classical technique with emotional depth that will lure audiences out of the traditional theatre space and into an intriguing dimension of artistic possibility," said Mr Li.
"Also at the Thomas Dixon Centre, we will welcome both the young and young at heart as we finally raise the curtain on our ballet for children, Peter and the Wolf.
"After two years of disruptions and postponements due to COVID-19, we are absolutely thrilled to see this symphonic fairytale about a young boy's courageous adventures brought to life through delightful choreography and the iconic score by Sergei Prokofiev."
In September, audiences will be treated to two special guest character artists in Sir Kenneth Macmillan's Manon.
In this iconic tale of seduction, ambition and greed, Mr Li and QB Ballet Mistress Mary Li will grace the stage in character roles. The couple fell in love while dancing together at the Houston Ballet with their story told in Li's acclaimed biography Mao's Last Dancer and Mary's own retelling in Mary's Last Dance.
"QB is one of the elite companies in the world with permission to perform Sir Kenneth MacMillan's version of Manon. It's a real honour to be part of this Season on-stage as well as behind the scenes. Monsieur G is one male leading role I haven't performed in Manon so once again, this is a dream come true and I'm thrilled that Mary and I will be sharing this special experience with our audiences," said Mr Li.
In August, audiences will witness a showcase of youthful artistry and dazzling skill for the Queensland Ballet Academy Gala. Demonstrating technical finesse and exquisite artistry, the Academy Gala features professionally trained young dancers as they master performance and passion in a dazzling display of classical and contemporary dance.
"In 2022, I'm thrilled to officially launch our new partnership with the Gold Coast's Home of The Arts (HOTA), which will see QB grace the stage with three performances of The Sleeping Beauty in February and then, in November, a mixed bill featuring Christopher Bruce's Rooster and Jack Lister's B-Sides.
"With music by the Rolling Stones and Nina Simone, this mixed-bill will transcend audiences into the swinging 60s. Brimming with infectious energy, humour and toe-tapping rhythm, Rooster is an ironic look at male chauvinism that will leave Gold Coast audiences wanting more."
The swinging 60s theme continues in Lister's B-Sides, with its fusion of colourful kitsch and seamless contemporary choreography.
"Finally, what season would be complete at Queensland Ballet without our annual festive tradition The Nutcracker," said Mr Li.
"There's something magical about bringing families together. It warms my heart to see our community include us in their own festive traditions," he added.
"For QB, 2022 is going to be a memorable year of celebration and growth, and we hope this Season reflects our bold ambitions for the future.
"This year, we officially open the doors of our redeveloped Thomas Dixon Centre, a world-class performing arts facility that will not only be transformative for QB, but for our wider arts industry and community.
"I would like to take this opportunity to acknowledge the Queensland Government, Queensland Ballet Board, our corporate partners and all of our visionary donors who dream fearlessly with us. Without their support, Queensland Ballet would not be the renowned company it is today.
"It has been a challenging two years, but we look to 2022 with hope and anticipation, eager to reunite with our beloved audiences and invite new audiences to share in the irresistible magic that is ballet."