---
Designing for Wellness
The Thomas Dixon Centre: from 19th century shoe factory to world-class wellness centre.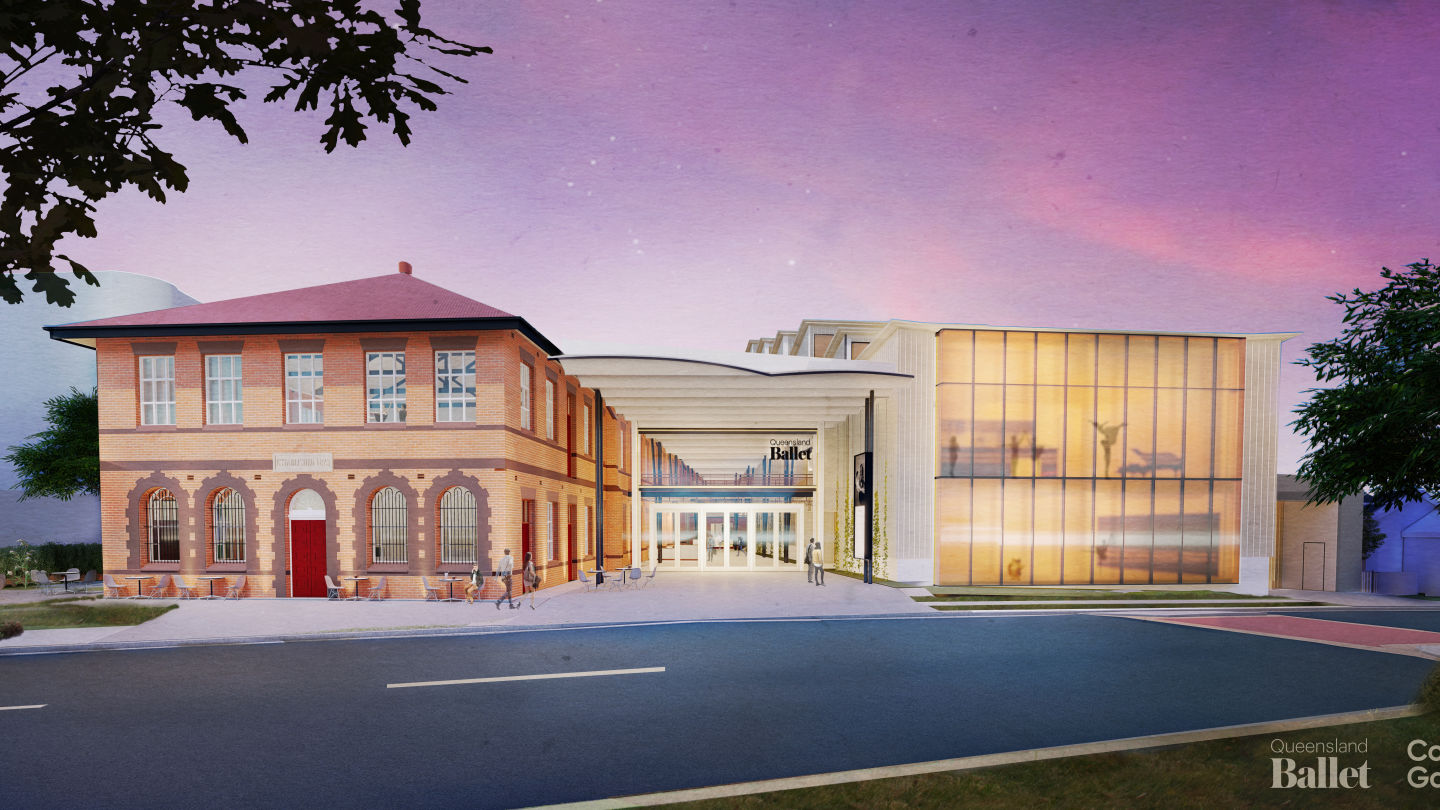 With lighting in sync with the body's natural circadian rhythm, optimal thermal comfort and the subtle fusion of biophilic elements, the Thomas Dixon Centre redevelopment has been designed with Queensland Ballet's (QB) most valuable asset in mind – its people.
Research into healthy buildings is rapidly growing, and the relationship between indoor environments and our health is becoming more valued and understood. For QB, that revelation dawned when the company realised its world-class vision juxtaposed against its cramped green room, confined gymnasium, and narrow flights of stairs, which rehabilitating dancers would hobble up and down each day. The appointment of Li Cunxin AO as Artistic Director in 2012 saw QB rapidly evolve, and by 2016, the Thomas Dixon Centre had become a rabbit warren stretched far beyond its limits.
Rather than relocate to a new home, QB saw the potential for the heritage-listed Thomas Dixon Centre to be transformed into something extraordinary; a cultural destination. The redevelopment presented an opportunity for the architects, engineers, designers and creative dreamers to place people at the heart of the design, with health and wellbeing as essential as the Thomas Dixon Centre's structure and bearings. The bold concept became a reality when QB discovered The International WELL™ Building Institute (IWBI) - an international rating system forging the way for the future of design where people, productivity and wellness are aligned in perfect harmony.
Grounded in evidence-based research, WELL is a performance-based system for measuring, certifying and monitoring features of the built environment that affects the health and wellbeing of occupants. Its seven core concepts across light, air, mind, water, fitness, nourishment and comfort all aim to holistically improve productivity, sleep patterns, mood, fitness and nutrition.
For QB Executive Director Dilshani Weerasinghe, achieving the WELL standard means investing in the health, productivity and happiness of QB's occupants.
"As we were going through the initial design process with our architects Conrad Gargett and consultant Xburo, it was clear we wanted to go even further in our design to consider the wellbeing of everybody in the building.
"QB is in the business of elite athletes, but we wanted to also support the wellbeing of everyone behind the scenes; our arts workers, our technicians, visitors and patrons. We want people to leave the Thomas Dixon Centre feeling a little bit better than when they arrived. We want it to be a small haven of calm amongst the hustle and bustle of life."
With a wellness centre, lush garden surrounds, seven light filled studios and captivating artwork around every corner, the Thomas Dixon Centre's environment is designed to induce comfort and embrace creative thinking. More than 30,000 projects across 98 countries are applying for a WELL rating and QB is determined to join its elite ranks, aiming high for the Platinum rating which would make it the first arts centre in the world with this high score.
"It's ambitious, but QB doesn't shy away from a challenge," says Dilshani.
"Committing to the WELL standard ensures our dancers are rehearsing in an environment that benefits them. It ensures our business, creative, and behind-the-scenes teams are working in an environment that promotes vitality, and it ensures our patrons and community members are welcomed into a space that has sustainability at its core."
Originally published in Pas edition #7.