Seniors in Studio
---
As we get older, keeping our bodies strong and agile is more important than ever. Our classes for active adults are a great way to challenge the mind and body and make new friends who share a love of dance.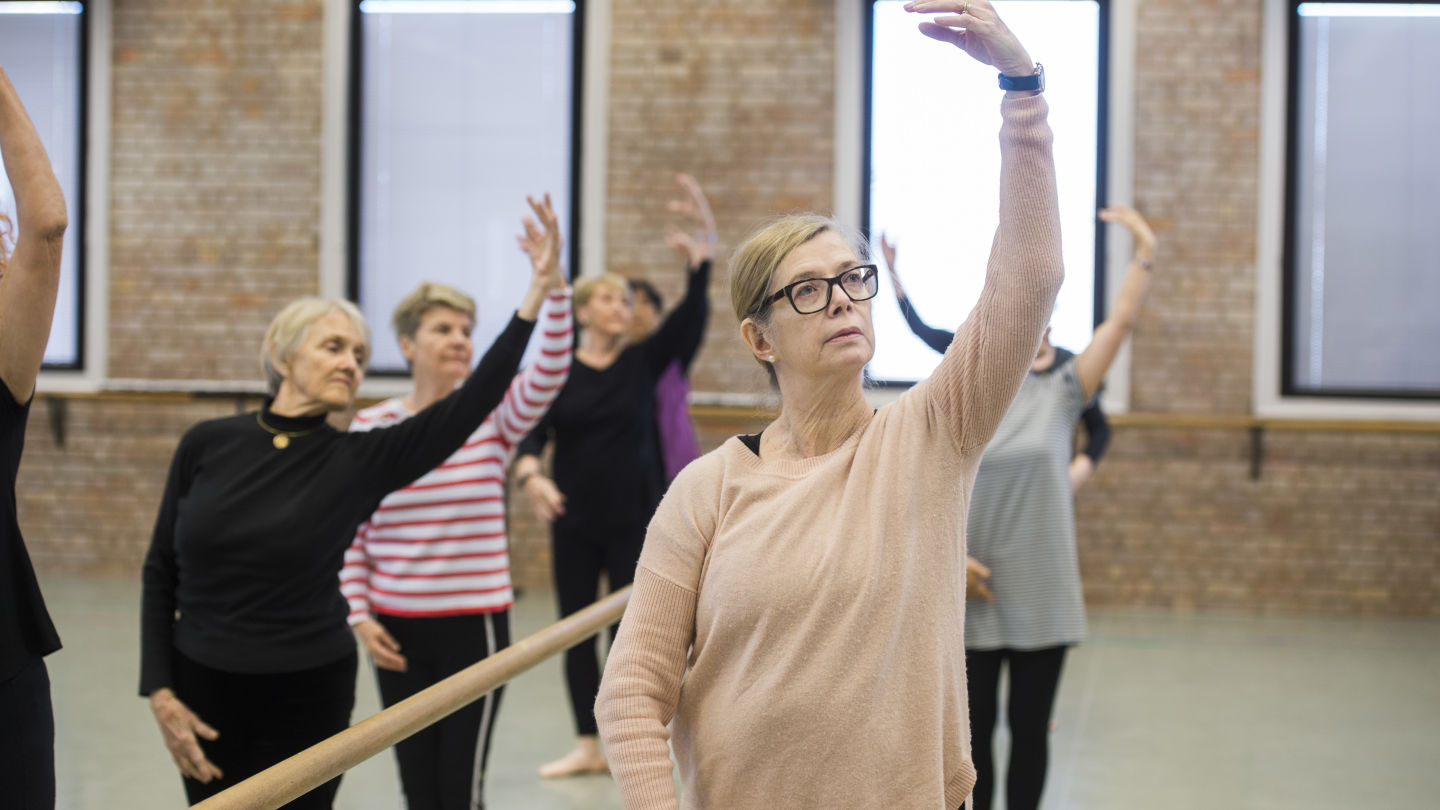 Open
Formulated under extensive research and tailored for aging adults, these classes focus on improving poise, core strength, memory and mobility. And above all provide a wonderful way to connect with likeminded dance enthusiasts.

In 2017 Ballet for Seniors was the subject of a research study conducted by Queensland Ballet in partnership with Queensland University of Technology and supported by the Queensland Government's Advance Queensland initiative. Findings show that Ballet for Seniors led to positive wellbeing outcomes particularly: feeling more energetic/animated, keeping in shape, bodily control/awareness, posture, flexibility, physical wellbeing, and overall wellbeing. Find out more here.
Open
This class focuses on Broadway Jazz artistry and choreography, drawing from some of the world's most popular musicals. Grounded in jazz technique, the class is tailored to be inclusive of beginner-level older adults: no turns, jumps or floor work.
Open
Queensland Ballet is the first dance company in Australia to offer specialised classes for people living with Parkinson's Disease (PD). This highly successful program helps participants reconnect with their power, creativity and grace. All levels of mobility. Carers, partners and family members are welcome to participate.

Research suggests dance can improve cognitive performance and reaction times, making it a useful treatment for a number of conditions, including arthritis, dementia, depression and PD.
Casual Class
Online class $10
Studio class - Adult $18
Studio class - Concession $16
Studio class - QB Friends $14
4 Class Package
(This package is only available for Dance for Parkinson's)
Adult $61
Concession $54
10 Class Package
Studio class only
Adult $153
Concession $ 136
QB Friends $119
#Celebrating our Seniors
Made possible through our valued partnerships, Queensland Ballet is proud to be supporting and celebrating our senior's community with a series of events and programs for Seniors Week 2020 from 15-23 August.
#Ballet for Seniors - Centre Stage
Experience the magic of the theatre with Ballet for Seniors classes taking place on the Lyric Theatre, QPAC stage; a unique dance class experience. More opportunities coming soon.