---
Reserata Photo Exhibition by David Kelly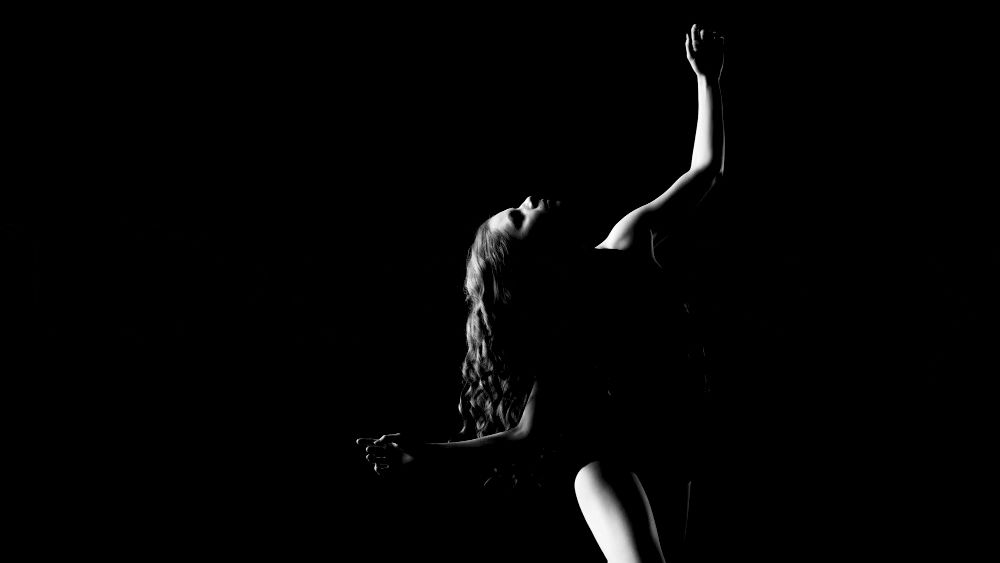 ​David Kelly has worked with QB for 20 years as an exquisite dance photographer. This year, he created an exhibition of photographs called Reserata showing as part of the 2018 season of Bespoke.
Q. How long have you been working with QB?
A. My first contact with QB was July 1998. Myself and journalist, Francis Whiting, joined QB for a few days on their Regional Tour for a feature story in the Sunday Mail magazine. I think we travelled as far as Roma and Miles before returning.

Q. Do you remember your first project?
A. During the Regional Tour, I remember having a conversation with François Klaus, and being shocked when he told me that, generally there was no photographic record of their productions. To think there was nothing for posterity of original works concerned us both, so I suggested that I could start shooting dress rehearsals when I was available. Can't recall what the production was but was shot on colour negative film. I'd like to see them out of interest. They're tucked away in the building somewhere! Q. What has been your favourite production or photoshoot? Any standouts? A. I have so many favourite productions, but a stand-out has to be Carmen in 2011 with Rachael Walsh and Iona Marques creating havoc on stage! Rachael always brought passion to the stage, but the fire was white-hot during this production. Awesome to capture. My favourite photo shoots? Well, there's been a few. Traveling to China and shooting Kathleen Doody and Iona Marquez for a magazine fashion spread was out of the ordinary. We had quite a following in the park that day! And many fellas happy to lend a helping hand! Changing outfits was quite the challenge. Another standout was getting in tangle with a red belly black snake on a shoot recently!
Q. What is your favourite memory working with QB?
A. My favourite memory working with QB? Well, that's just walking through the front door. Always has been. It's been a sanctuary at times, I guess. And I know I'm incredibly fortunate to have had such relationship.
I know when I'm shooting QB, I am with a bunch of passionate, creative, amazingly talented and appreciative folk and it feels like home, my second home of course. And nowhere else has given me my very own beanbag! I've always felt greatly appreciated here and always greeted with a smile. Even when shooting with stage lights so dim, it's difficult to see with the naked eye, Cam Goerg will always apologise with a smile (or is it a smirk? Hard to see!)
Q. Can you tell us a bit about Reserata? How did the creative process work?
A. Reserata. In its infancy - no title, an open brief, head swimming with ideas, infinite possibilities, great excitement and 18 months to complete.
Six months from opening - brief is narrowed to having one day to shoot, six dancers, flood of ideas, mild panic, no title, a narrowing of possibilities (a good thing), mild panic.
Five and a half months from opening - an idea reveals itself. Listening to ABC classic fm (stress relief) while driving, when I'm struck by a piece of music being played, Arvo Part's, Fratres. Haven't heard anything quite like it before and imagery fills my mind. Then the idea hits me of having dancers interpret this incredible composition. Could this be it?
A calming. No title. A vision.
The more I think of it, the more it excites me. I think, white room, black room, single light. I think muscles, veins, tendons, body parts, emotion, movement.
Spare thought is of this nameless, as yet non-existent thing.
Shoot date is set – 18 August. Mild panic.
Four months from opening. Production and wardrobe meetings. Dancer selection (very difficult thing to choose only 6). It's really happening! Moderate panic. No title.
Shoot day. Sleepless night. Greater than moderate panic.
Reset most of previous nights' lighting setup.
First dancer, Jack Lister, steps into the single light of the blackened room. He listens to Fratres for the first time, he begins to move, angular, muscular, beautiful. Anxiety subsides replaced by a tidal wave of emotional relief...
As my very good friend Ben Allmon, wrote on his little-used Facebook page, "This is the culmination of 20 years' work with Queensland Ballet, a distillation of a lifetime's experience, and truly his finest hour." I'm very fortunate to have such insightful good friends. An incredibly fulfilling experience.
Q. What has it been like working on Reserata with Amy Hollingsworth and QB Artists?
A. It's been a great privilege working with Amy and the awe-inspiring dancers, Jack, Laura, Joel, Mia, Lina and Vito. How wonderful to be given this opportunity. Amy is incredibly motivated and is a person who allows you to find the confidence to believe in yourself. For her to approach me 18 months ago and say 'I want to unleash David Kelly' was music to my ears. A chance rarely awarded, and I thank her, heart and soul. (I still owe Amy a champagne or ten) The dancers, well they are the stars, the main act. I am but a conduit between their expression and the viewer. They are the real deal. I've photographed many people at the height of their careers from many different sporting arenas for news organisations, but none combine strength, fitness, control, trust, discipline and creativity quite like these guys. Each brought their own personality to their interpretation of the music and when partnered, wow! How do they communicate their next move? A sixth sense, maybe. At times two became one, not sure who's arm belonged to whom. Heads disappear, a gentle touch. Incredible to witness and exciting to photograph.
PS. Sitting in the Subaru service waiting room thinking about exhibition titles. Of course! Unleashed! Unlocked! A quick contemporary library reference for the Latin translation. Reserata.
That'll do!
Q. Are there any projects you would like to do in the future with QB?
A. Yes.
A big thank you to David Kelly for all of us at Queensland Ballet!