---
60 dancers: 60 stories

A world première of new ballets
Scroll down to watch
We send heartfelt thanks to our whole community for joining with us to Keep the Magic Alive. With the release of each of our 60 dancers: 60 stories works, we were constantly reminded of the capacity of art to enrich lives and lift the spirits of humanity high. We still are so touched by your support and beautiful well wishes received after the release of each story - it truly means the world to every dancer, creative and behind-the-scenes enabler here at Queensland Ballet. Thank you.

Like many organisations, Queensland Ballet continues to face challenging and uncertain times. We remain committed to being able to keep our dancers and wider team employed and engaged in 2020, 2021 and beyond. We know there are still a lot of unknowns ahead and we want to ensure that we're giving our people the security they need to manage their future.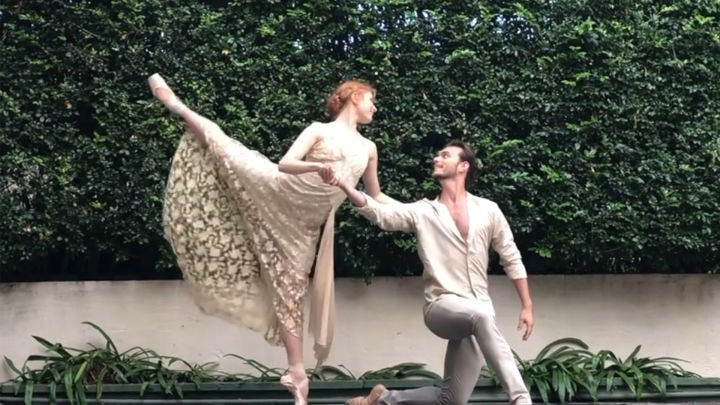 Ave Maria
Mia Heathcote and Victor Estévez
This piece signifies a prayer. Human nature requires love and often the dependence on loved ones in challenging times. Our creation is a family collaboration dedicated to our loved ones. Furthermore, we hope it will reach, connect and offer hope to a broader audience during these uncertain times. Love conquers all.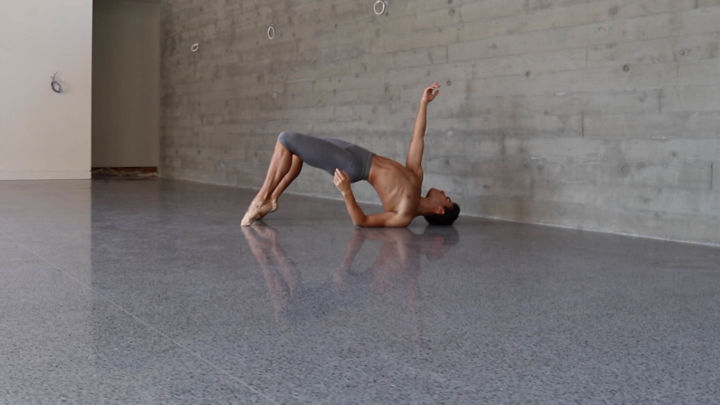 Real Love
Edward Pope
My inspiration is the feeling of love itself. How real it is, how it leads you to parts of yourself you had not seen. How it takes you inside to the world of someone else.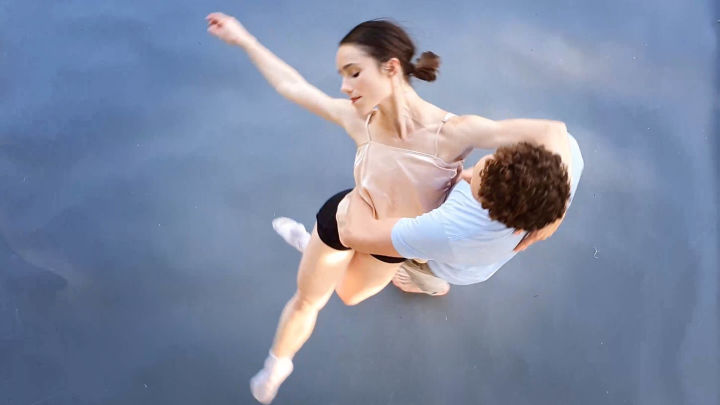 Prelude
Lucy Green and Sam Packer
This piece is entirely inspired by the music. A beautiful and generous gift from one of  Lucy's  oldest friends Peter Wilson. Hans Christian Anderson says, 'Where words fail, music speaks' and to us this prelude says all that we can't about love, about yearning and surrendering, and finding harmony.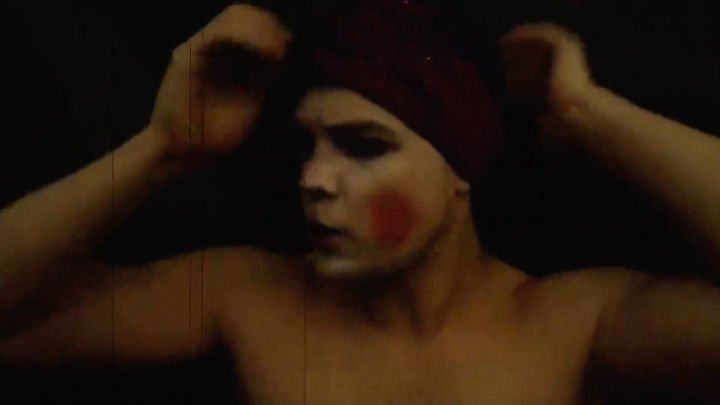 Costume Box
Rian Thompson
Me on a Sunday.
Me on a Monday.
Dear friends,
Oh how I miss you.
Remember when we dressed up and danced.
Even embraced!
Oh to be together again.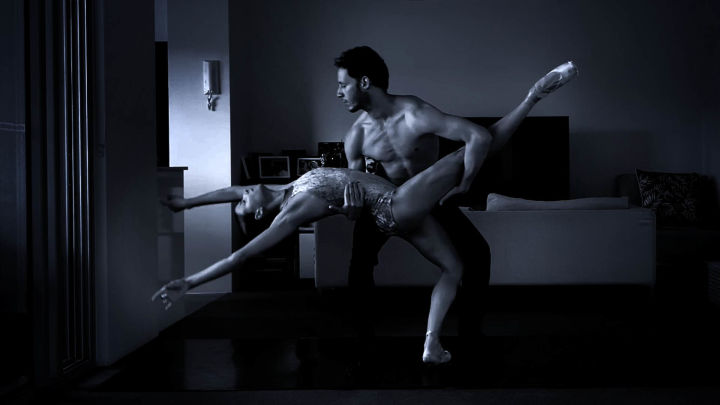 Caricias
Yanela Piñera and Camilo Ramos
Dreaming of a lover's soft touch
Of physical harmony
Caresses, cuddles
Touching, hugging...more
The Spanish call this Caricias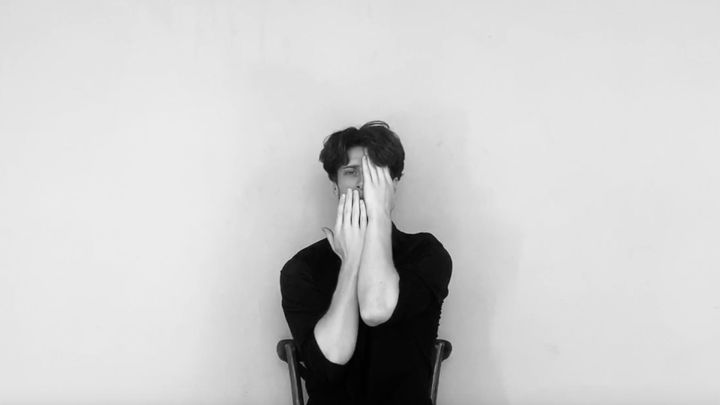 In the Rain
Vito Bernasconi
When isolated from the world and having your inner dialogue as your sole company, sometimes the only solace that you have is the memories of those that you love and hoping one day, you see them again.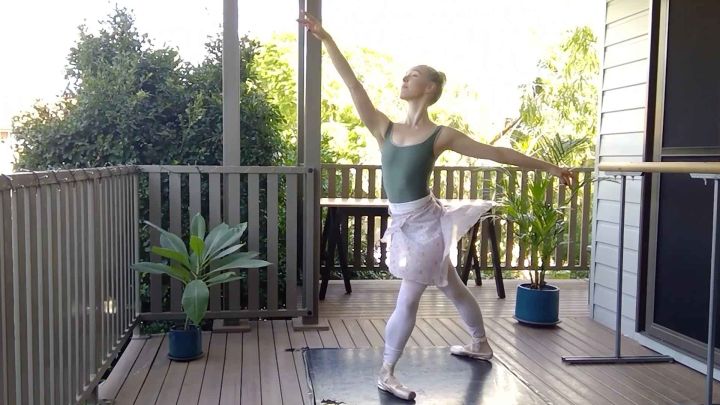 I Love to Turn
This segment is inspired by Li Cunxin's pirouette coaching classes. It is also the dancers' day-to-day story, the continual love/hate relationship with turning technique. Of striving for better and more, no matter where, when, or under what circumstances: excellence is always sought.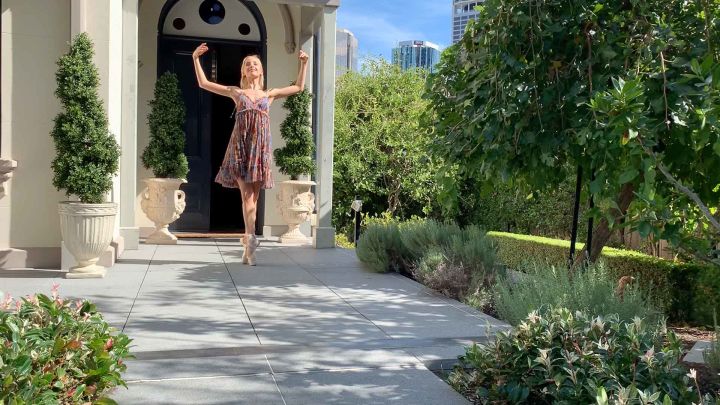 Look Up
Lucy Christodoulou
I truly believe that love is the energy that unites us all and holds our world together. Our love is what heals us and heals our planet, and every day I am in awe of the beauty of nature and the purity that surrounds us. We must remember to appreciate the little things, like the song of a bird, the morning sunshine and a flower in bloom. For Mother Nature is our greatest teacher and healer, and she needs our love.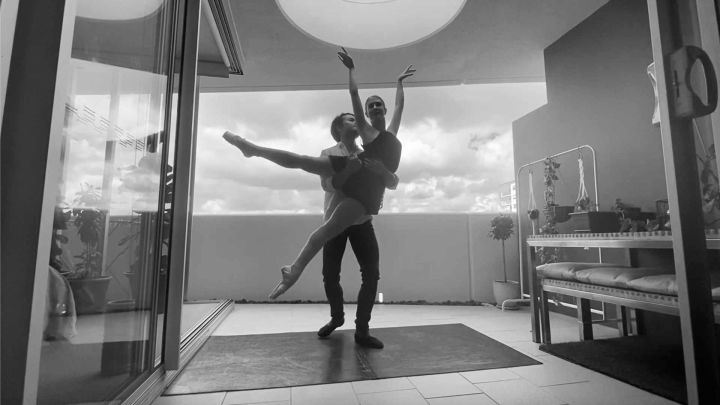 En-counter
Kohei Iwamoto and Isabella Swietlicki
We wanted to create an upbeat, fun and flirty dance, to cheer ourselves and hopefully others up during these challenging times. In this fresh piece of music we 'encounter' two eras the hyphen is the link between them. The title is a word play because I dance en pointe, but it is also a piece about encountering new love.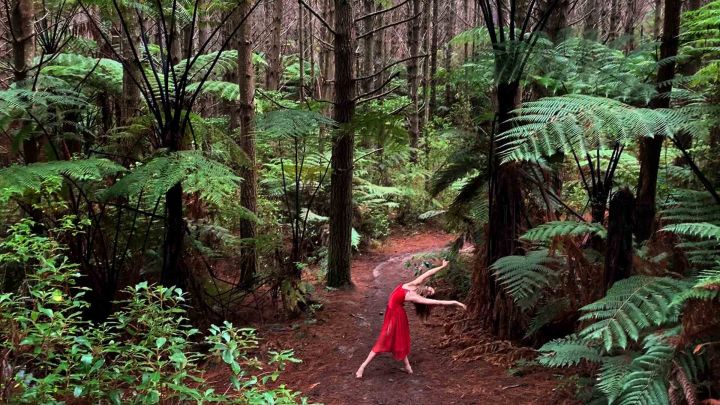 Arohanui
Libby-Rose Niederer
Aroha is Maori for 'love' and Arohanui loosely translates to 'big love' meaning beyond that for a person or community. This word describes how I feel towards nature, especially the wild beauty of my homeland Aotearoa. It reminds me to live life in gratefulness and with amazement for the natural world which brings me love and joy.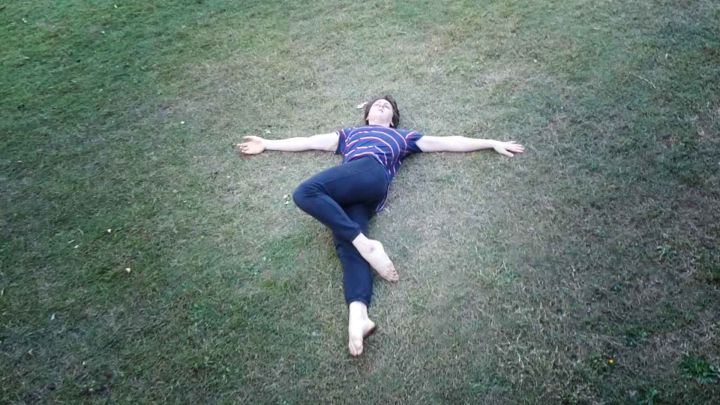 Looking for Love
Kieren Bofinger
Regardless of age, everyone has experienced the multitudinous emotional whirlwind that is being a single teen Looking for Love. From wonder, self-assurance and hope to anxiety, diffidence and rejection, 'singlehood' plays with the full palette of thoughts and feelings. So while this piece paints one picture, perhaps it might incite a colourful memory of your own. Enjoy.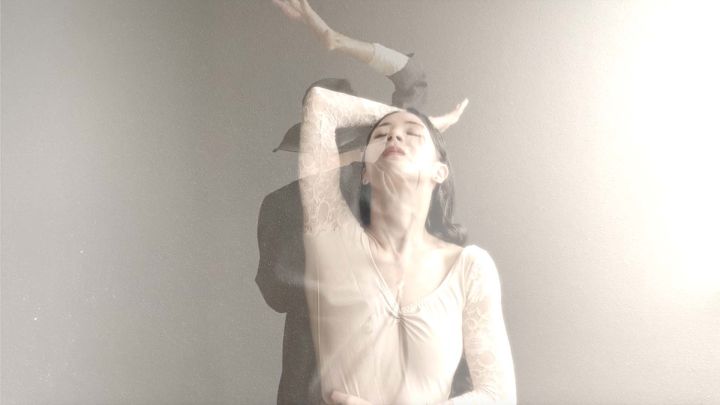 Zweisamkeit
Lou Spichtig
German word for Togetherness. In light of current events, I wanted to explore what we feel when we are alone, yet have a sense of togetherness, opposed to how alone one can feel, even when we are all together.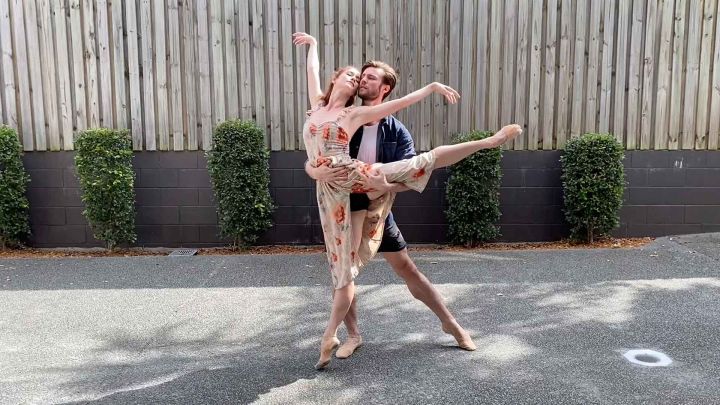 A Love Like Ours
Joel Woellner and Alison Mcwhinney
A Love Like Ours explores love in its many forms. This piece is anchored to the incredible music of Rachmaninoff. The rise and falls of the melody have inspired my work. It has been extremely special creating this work with Alison; a friendship I will cherish forever.
Entwine
David Power
The absence of human connection.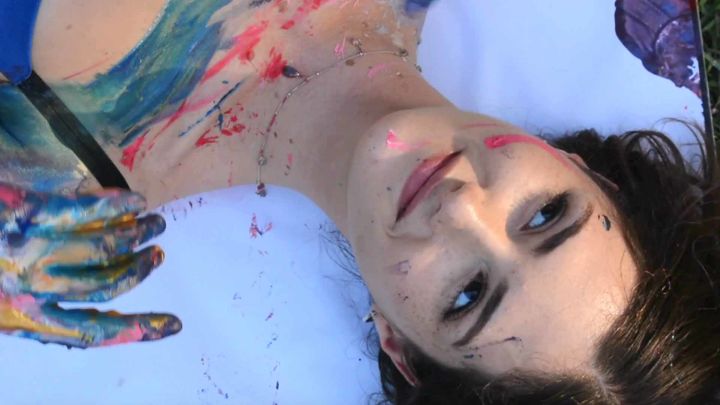 Self Portrait
Chiara Gonzalez
I love the idea of starting with a blank canvas and having the freedom to create anything my imagination desires. I have always had a deep love for art, whether it be appreciating it or creating it myself. It's something that brings me so much joy, similar to how I feel when I express myself through dance.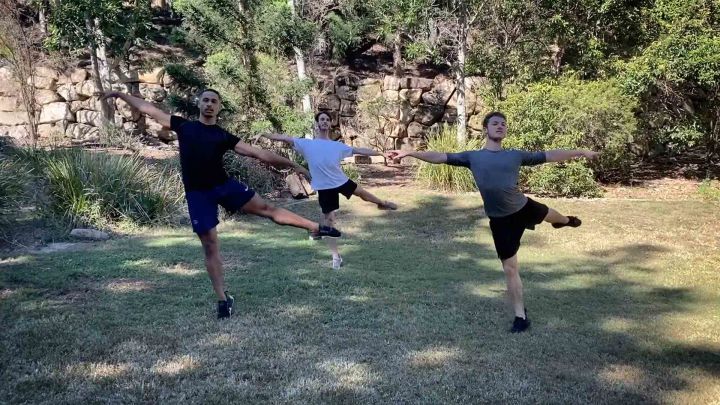 Comrades
Patricio Revé, Oscar Delbao and Charlie Slater
3 house mates with the same love for ballet, share a bond of comradery like no other. No matter where they are, they find a way to enjoy dancing alongside other sports.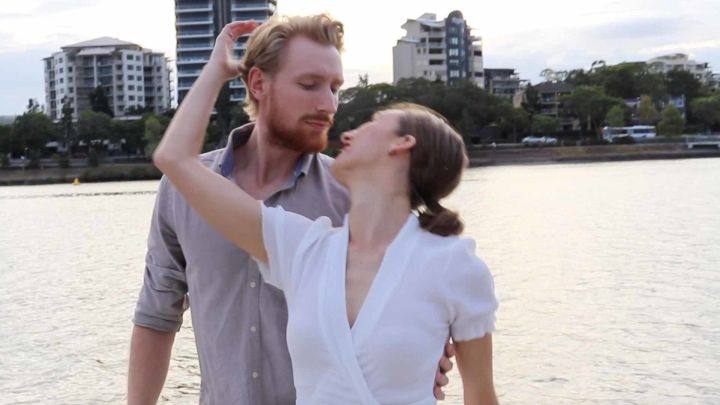 Break in the Clouds
Georgia Swan and Ari Thompson
In these times of uncertainty and anxiety, it can be difficult to stay positive and hopeful. This makes it even more important to take one's focus to the silver lining where possible. Find happiness and joy in the little things and take solace in the ones you love.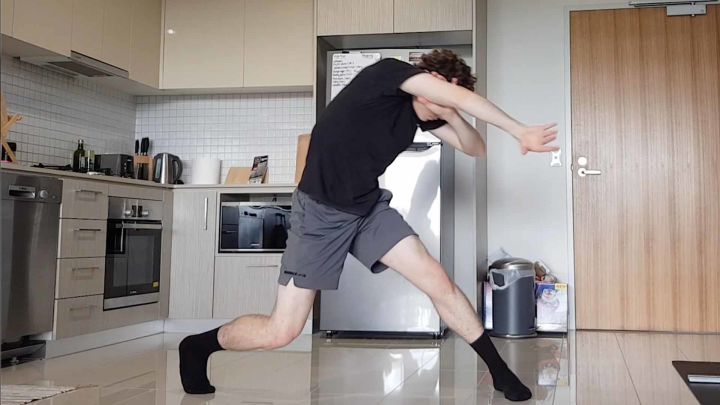 Breath of Fresh Air
Daniel Kempson
During this time, we are all feeling a bit stir crazy... sometimes you just need a little fresh air.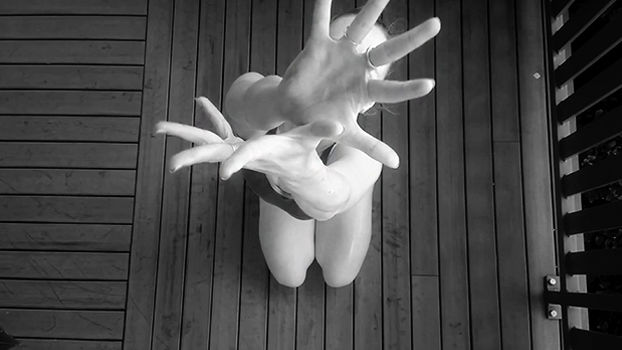 Heartbreak
Serena Green
The heartbreak of losing a great love, but the pleasure of having known it.

Dedicated to Russell Green (1960-2016)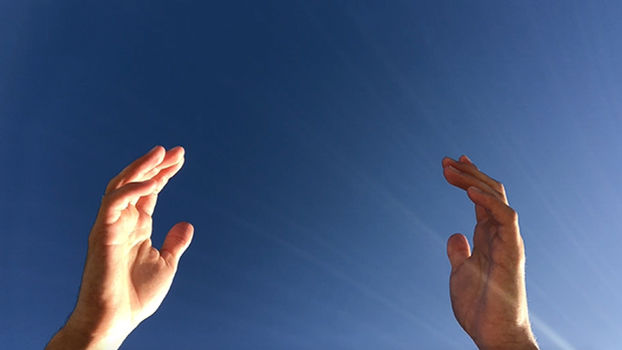 Eros
Liam Geck
Eros is the God of Love in Greek mythology, son of Chaos and Aphrodite; he is depicted carrying a bow and arrow ready to cause mortals and gods alike to fall in love. Plato's understanding of Eros is the permanent aspiration or the desire to possess. This piece is about love lost and how Eros can cause chaos in peoples lives, making it seemingly impossible to move past the heartbreak that humans so commonly experience.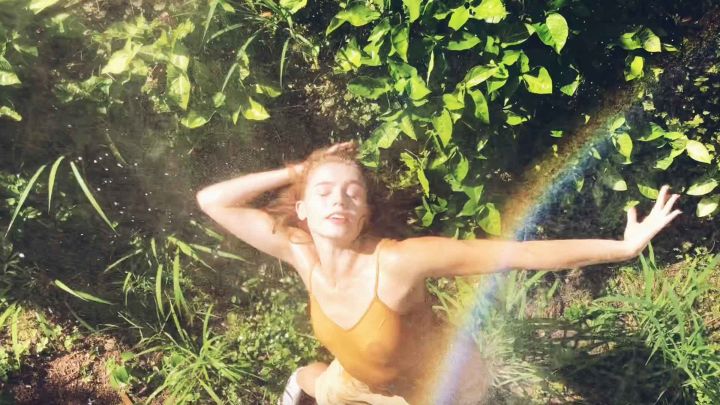 Sunshine State of Mind
Sophie Zoricic
The world is currently reshaping its future and what is 'normal' to us. Now is our opportunity to reprogram the way we think about what is important which, I am hopeful, will be the simple things in life, like nature and our environment. I believe we need to be selfless with this second chance and choose Mother Nature as our greatest love.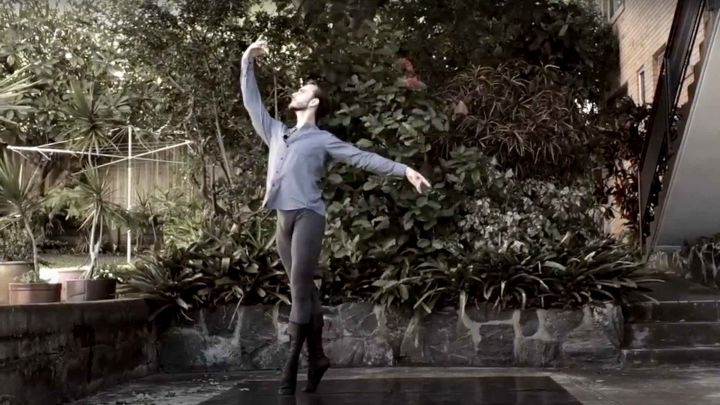 Prince Siegfried's solo, Swan Lake, Act One
Victor Estévez and Mia Heathcote
Swan Lake is ballet's most celebrated love story, and in almost all versions, a love tragedy. Prince Siegfried's Act One solo comes after the realisation, he is destined for an arranged marriage with a Princess from a far-off land. Butin his heart, he searches for true love, which appears to him in the shape of the Swan Princess, Odette.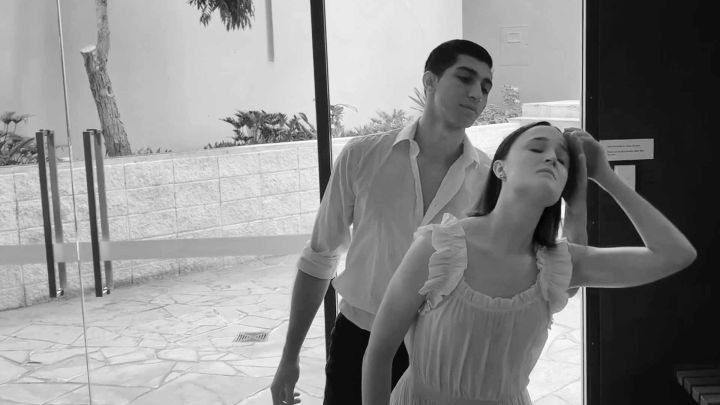 Your Hands On My Eyes
Dylan Lackey
"When I die, I want your hands on my eyes: I want the light and the wheat of your beloved hands to pass their freshness over e once more…" – Excerpt from "sonnet LXXXIX" by Pablo Neruda.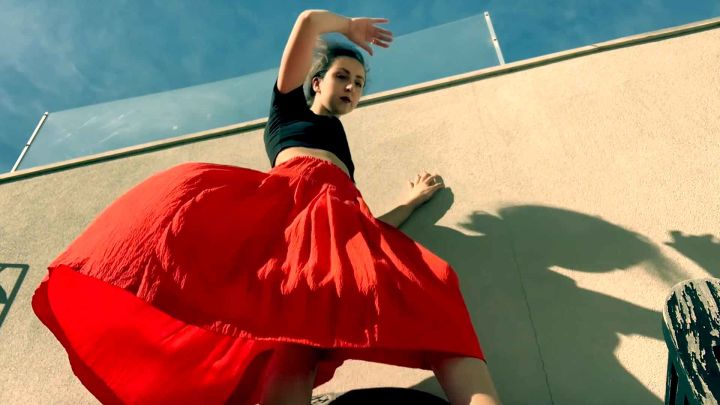 Insight Out
Vanessa Morelli
Me time; being alone doesn't mean you are lonely.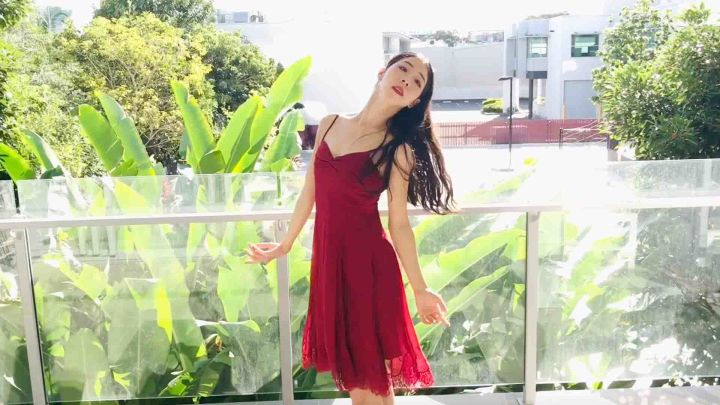 Afterglow of a Nocturne
Neneka Yoshida
"Eyes gazing up blankly see but the sky, not that I think the one I love will drop down from it". - Izumi Shikibu

 I left home when I was 15. As in Shikibu's poem, when I feel lonely, I look up to the sky to remember that my family is under the same sky and that we are always connected.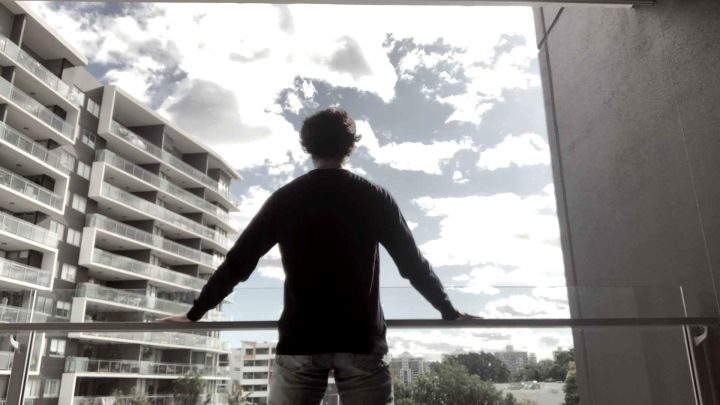 Salvation
Clayton Forsyth
If you can love someone with your whole heart, even one person, then there's salvation in life. Even if you can't get together with that person. But how do you find this person? And what if you don't?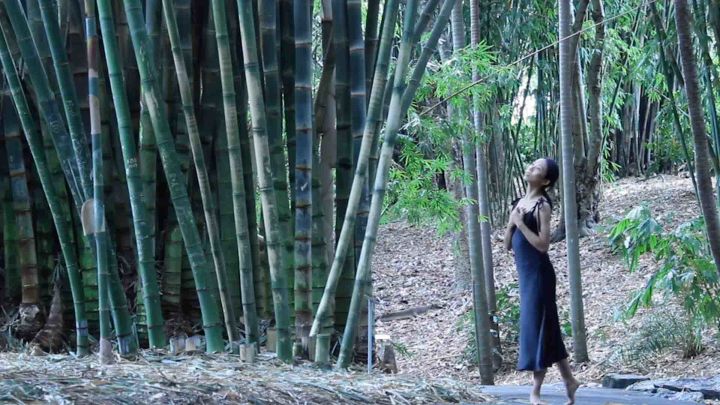 Come With
Lina Kim
"If I had a flower for every time I thought of you...I could walk through my garden forever." – Alfred Tennyson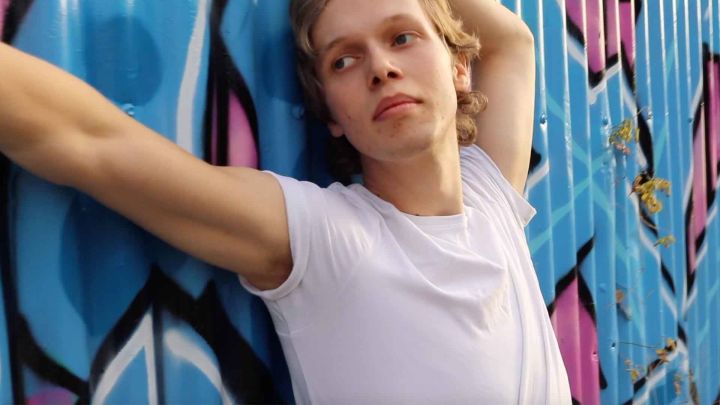 Contrast
Shaun Curtis
Art is what you make of it. To the individual, it is subjectively perceived.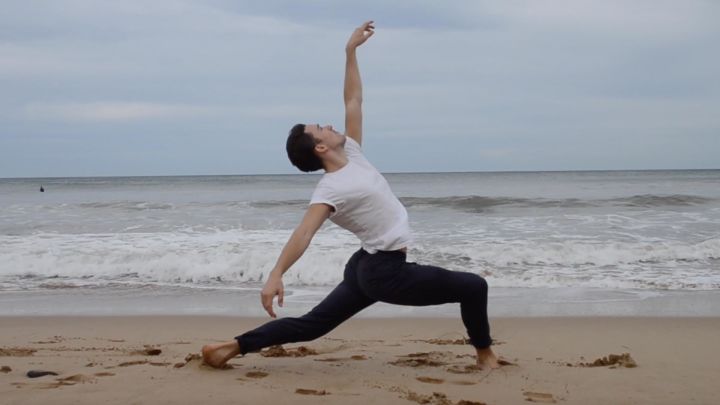 11W
Luke Dimattina
There's no place like home...except the beach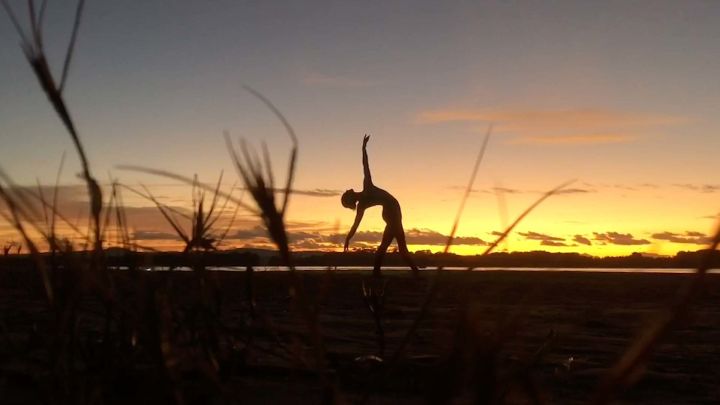 Curtain Rise At Dawn 
Tonia Looker
Nature's curtain rises, day after day, shining glorious beauty and breathing new life. Our lives may not be what we once knew, but the awe inspiring wonder of nature continues to connect with us all over the world.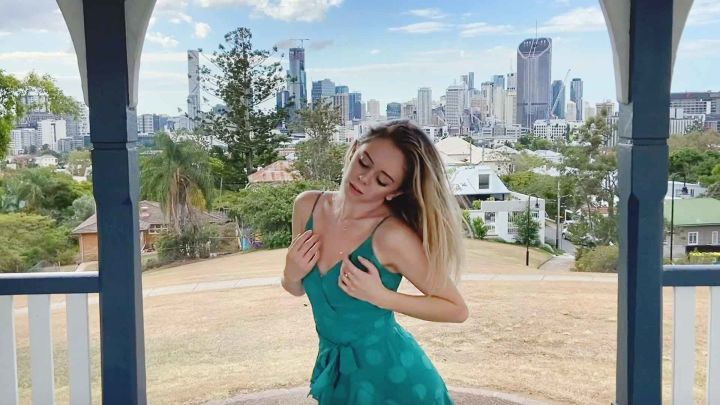 From Within
Brooke Ray
My inspiration for this piece is from my favourite book, 'The Great Gatsby'.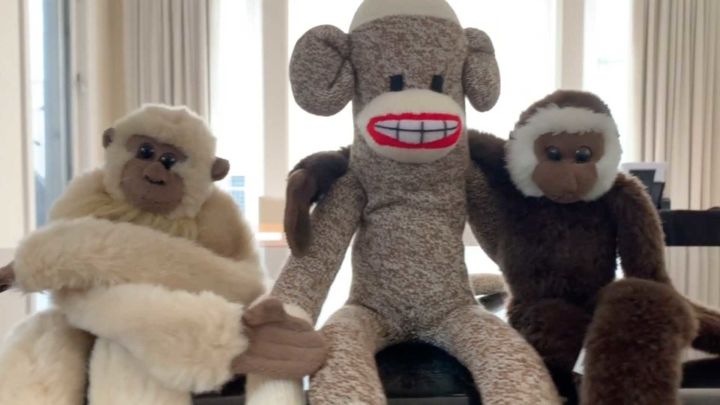 I Love to Monkey
When lockdown first hit, Chief Ballet Master Greg Horsman initiated the Dance Monkey project, to keep our dancers engaged and spirits lifted during isolation. The dancers initially used Dance Monkey by Tones and I as inspiration for the project, but the music used in this film was composed by Stefanie Gumienik – our wonderful company pianist. Dancers within this clip, are monkeying with a 'significant other'.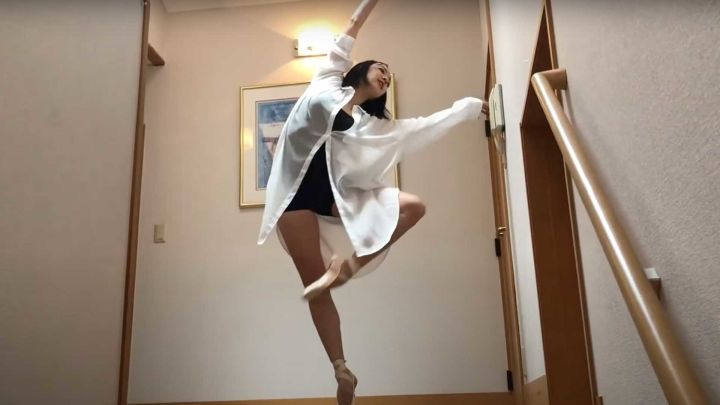 Towards the light…
Eriko Nakajima
Sometimes I feel very lonely. But when the light illuminated me, I feel like I can escape to a new next step from loneliness. At the same time, nostalgic memories suddenly revived within my mind like a flash and I realise that I'm not alone, I have loved many people and they have loved me as well.
Awakening Passion
Lachlan Mair
The first classes that a young dancer takes may appear simplistic, yet unbeknownst to the student, the teachers, classmates and the actual studio all contribute to that moment when passion awakes. Filmed in the studio of my first dance lesson, this piece explores the journey of discovery for my love of this artform.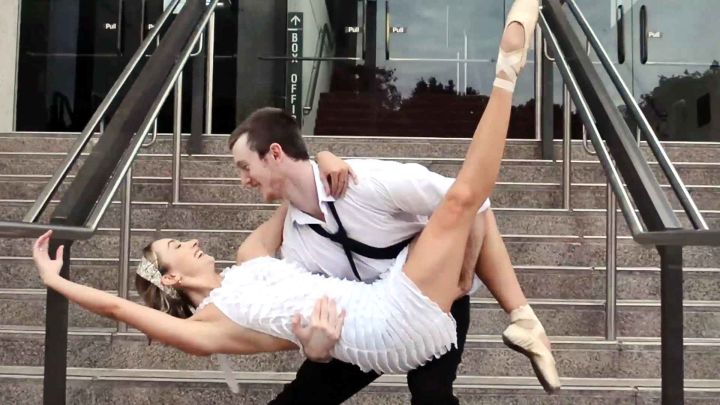 A Day at the Theatre
Alyssa Kelty and D'Arcy Brazier
We both met and fell for each other through our mutual love of ballet and performing. The theatre has always been a special and magical place that continues to enamour us, and we hope that our short piece can instil that same feeling in you. We chose to film in and around the Queensland Performing Arts Centre, to symbolise that we'll be back soon!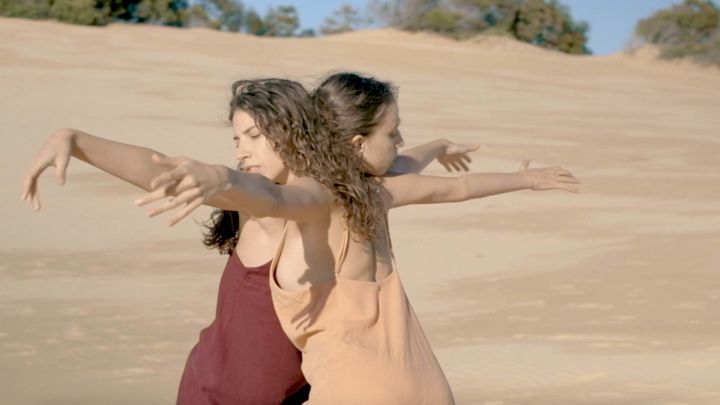 Introspection
Renee and Heidi Freeman
Coming face to face with yourself can be confronting. As we uncover the depth of our identity, we experience a revealing process on the road to self-love and acceptance.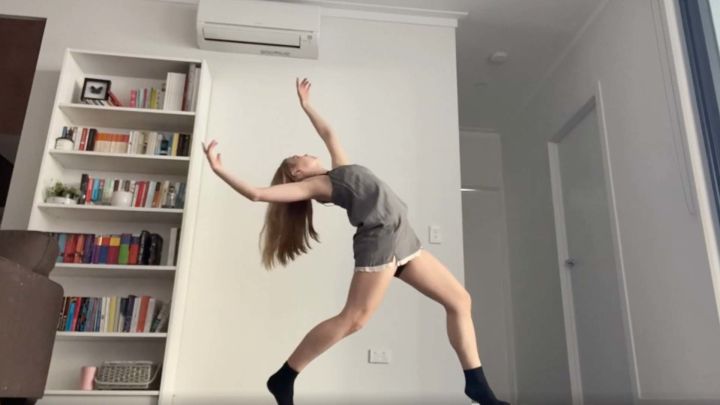 To be Loved
Ines Hargreaves
The Relationship you have with yourself sets the tone for all your other relationships. A person's ability to love someone, or something can be developed by an acceptance and love of oneself.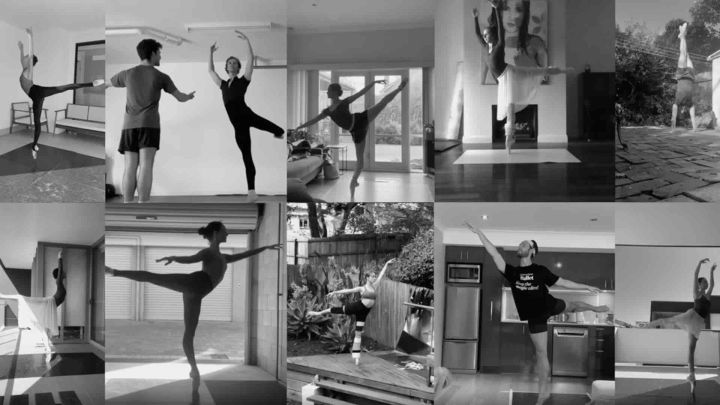 I Love to Balance
Balancing speaks of alignment, strength, and determination. Equal to the elation of achieving an amazing balance, is the pleasure in viewing one.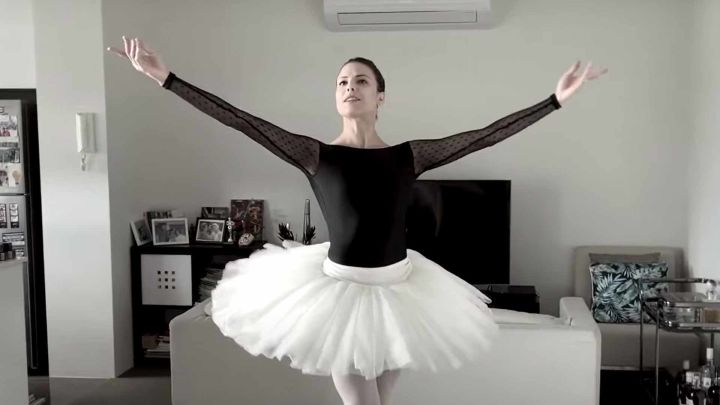 Raymonda's Wedding Solo
Yanela Piñera
Raymonda's Act 3 is the grand wedding ceremony of Raymonda and Jean de Brienne. Within the danced festivities, Raymonda performs her quiet, yet powerfully exotic variation.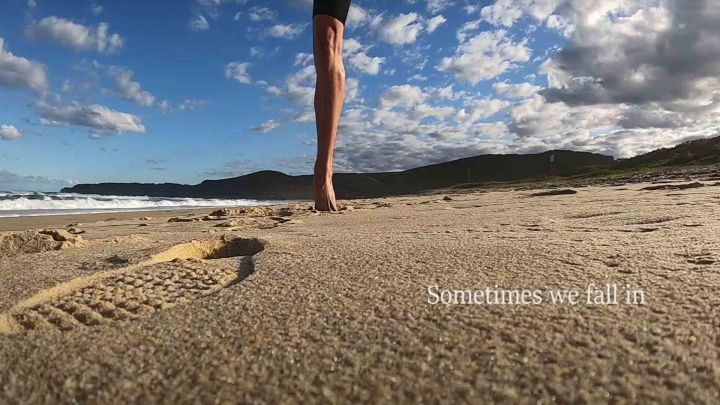 Submerged
Lewis Formby
Water and love are the essences of life. We need both to survive and struggle to control either. They are the best and worst of our experiences but when you allow them, they take you to amazing places.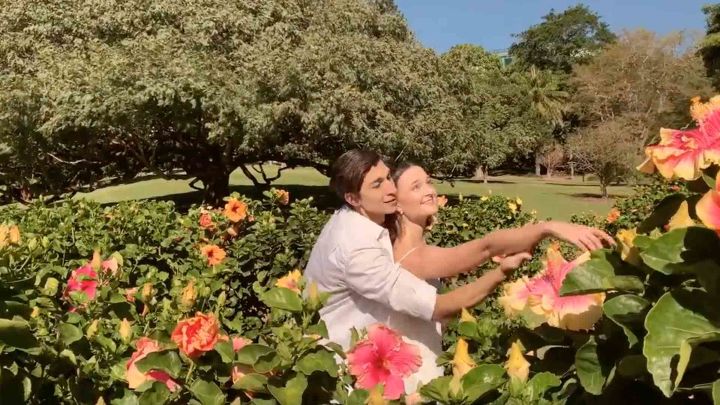 Beautiful Sedation
Paige Rochester & Mali Comlekci
The fantasy of love; a naive mind's expectation, the kind of euphoria that can only exist within a dream.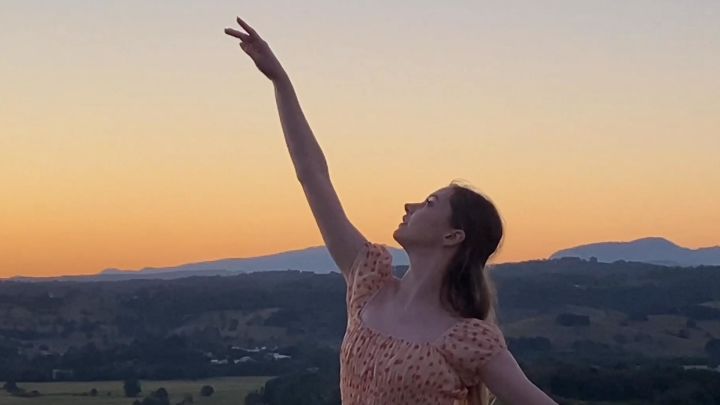 A Wonderful World
Kayla Van Den Bogert 
My inspiration for this piece is Louis Armstrong's, 'What a Wonderful World'. The song shows a love for the world and everything in it, which I think is beautiful, and it gives me hope in these uncertain times. We certainly do live in a 'Wonderful World'.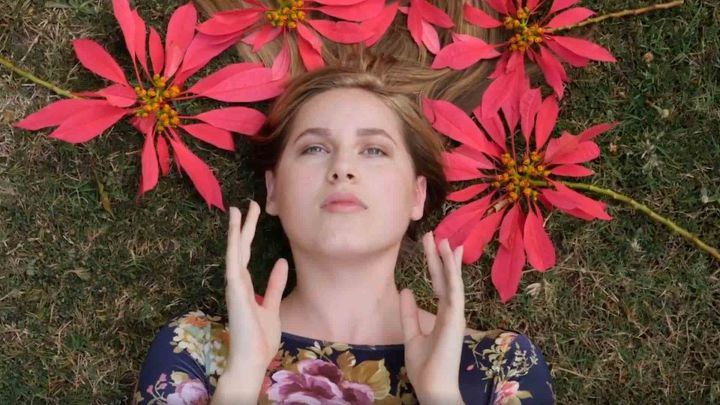 Escapism
Talia Fidra
To dream is to escape the confines of reality in the search of love. A love sparked by the powerful connection of music to nature.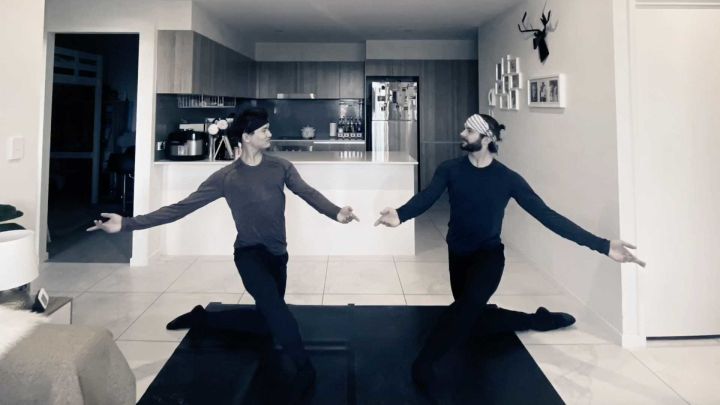 Dervishes
Alexander Idaszak and Zac Fang
Inspired by the Sufi whirling dervish dance, this piece explores the metaphysical relationship between the act of repetition and elation. Like children spinning dizzy in a playground, dancers likewise love the sensation of turning.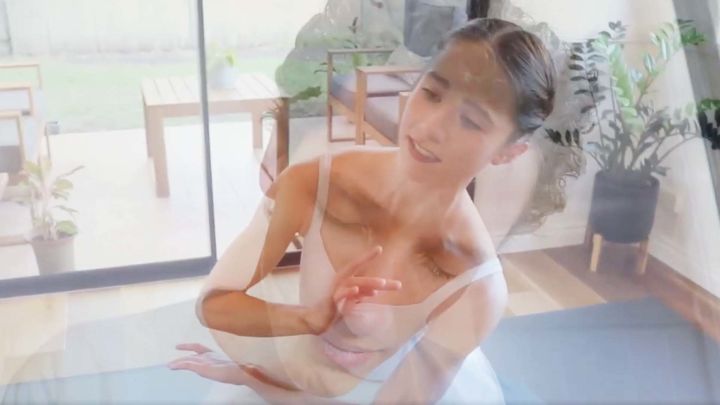 La Sylphide, Sylph Solo
Lucy Green and Samuel Packer
Inspired by August Bournonville's classic romantic period ballet, La Sylphide, this light-hearted interpretation of the Sylph's solo in act 1, has been transported to an Australian backyard and living room.

Warning - Do not try this at home.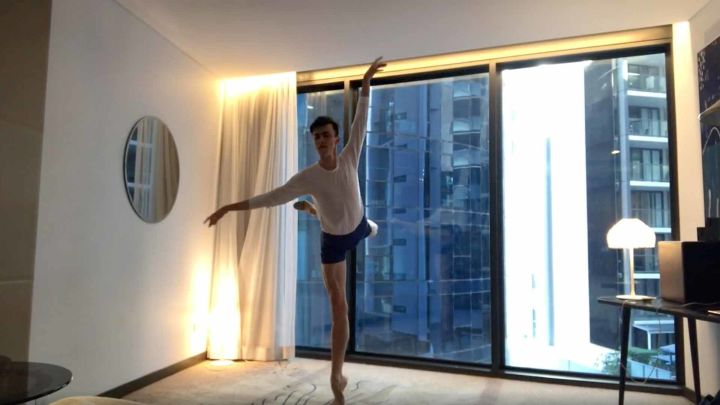 The Glass Between Us
Louis Ramsay
I had the challenge of choreographing my piece during two weeks of hotel isolation. I found that space, freedom and social connections is so important to us that, without it, I struggled. My dance portrays feeling a connection with someone, using my reflection in the window as if I'm interacting with someone on the other side.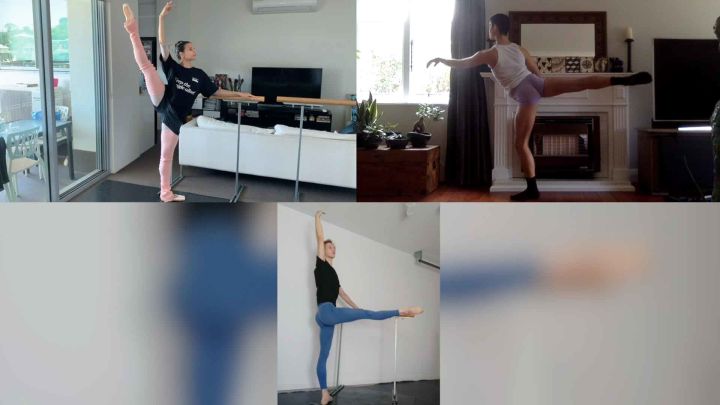 I Love to Train
Queensland Ballet
Barre practice has been central to our dancers' training in isolation. When COVID-19 restrictions were first implemented, our precincts and production teams set about making portable barres and, cutting discarded tarkett into squares for our dancers. Barre is like a dancers' morning meditation, it focuses the mind and body, and maintains the building blocks of classical form.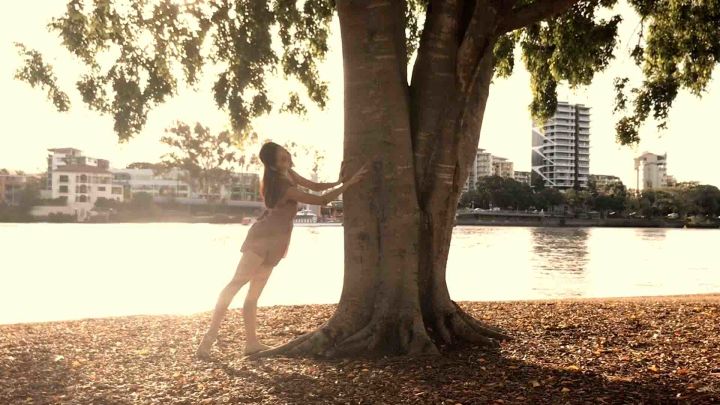 The Sky
Yuka Nojo
My inspiration is the quote by Donna Hedges: "Having a place to go is a home. Having someone to love is a family. Having both is a blessing." My family is always supportive and cheer me up. But they are not by my side now. When I miss them, the sky, reminds me of my family; that's why we are under the same sky!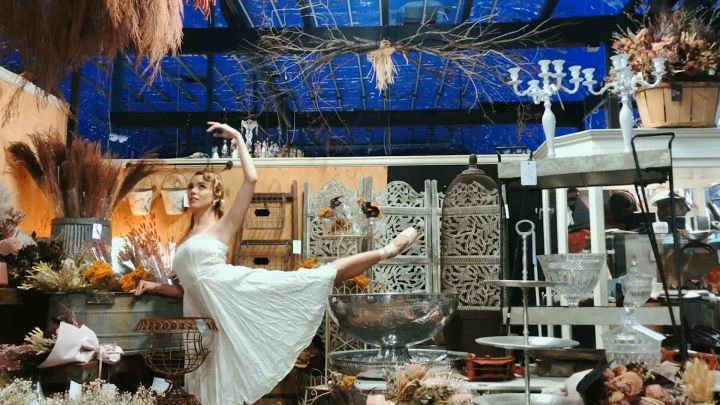 Nostalgia
Laura Tosar
A lonesome stowaway aboard the train of time. Memories lay resting in the same places we bury them, dead to the future but alive in our mind. She dances to savour this moment, in the living room of her youth, that old fashion taste that is always nostalgic, it felt like pain. Time moving forward, her body present, her mind stuck...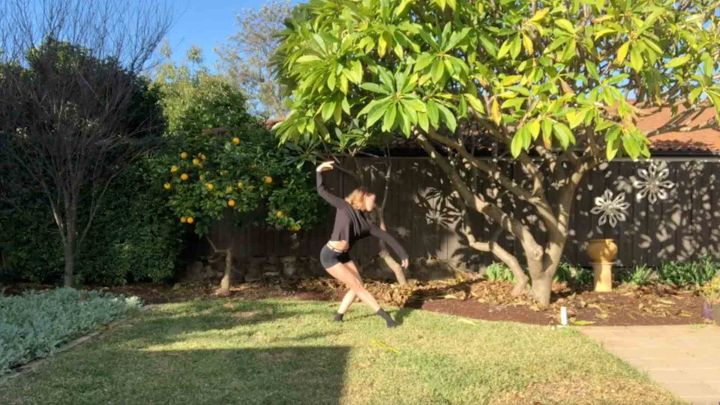 Hear
Hayley Thompson
This isn't so much a piece that I have created, but an integral part of my routine. Music is a luxury. Everyday I make time to stop and really listen to it.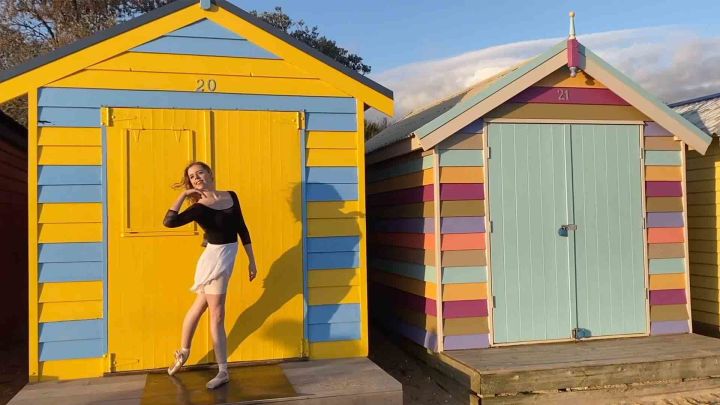 Grounded
Briana McAllen
Growing up near the beach allowed me to feel free and crazy spirited as a child. With everything going on in the world at the moment, I believe it's important - now more than ever - to find the things that make us feel grounded and remember love above all.  Each coloured box, for me, represents freedom, individuality, art, equality, and love!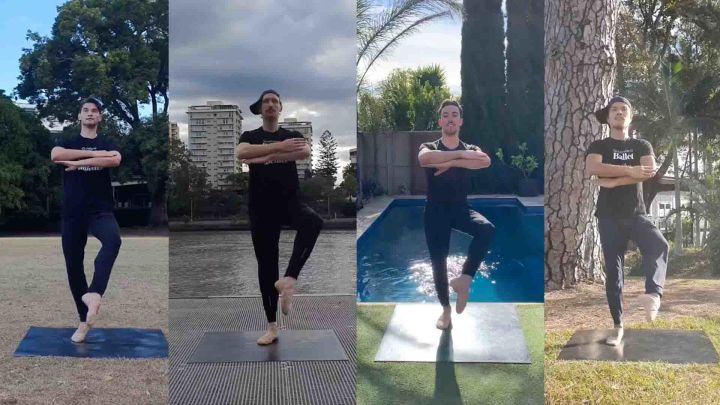 Cy-gents
Liam Geck, Ari Thompson, Luke Dimattina and Kohei Iwamoto
Friendship and unity are at the heart of this iconic excerpt from Swan Lake's Act 2. Baby swans are not usually associated with men wearing baseball caps turned backwards; but then again, why not?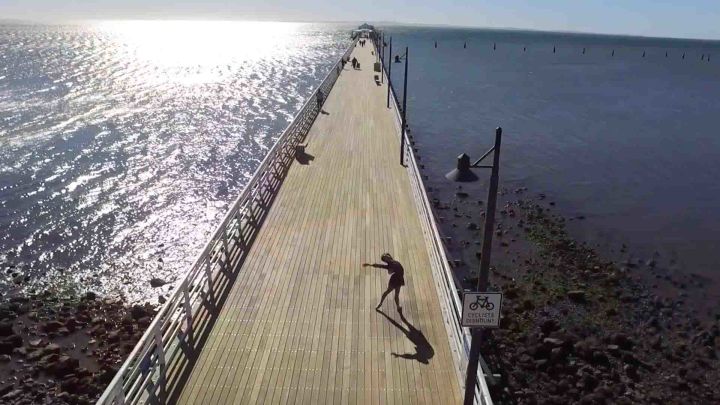 Reason, Season, Lifetime
Bronte Kielly- Coleman
My inspiration for this piece is the quote that "people come into your life for a reason, a season or a lifetime" for us to learn, be guided, experience, grow and receive lessons of love from each of them.    

Dedicated to Julie Kielly (1958 – 2020) who gave me lifelong lessons but only stayed for a season.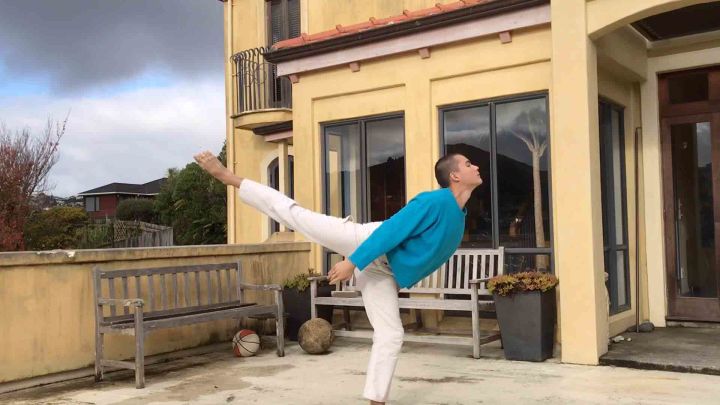 Running, freely
John Paul Lowe
"He who loves, flies, runs, and rejoices; he is free and nothing holds him back"   – Henri Matisse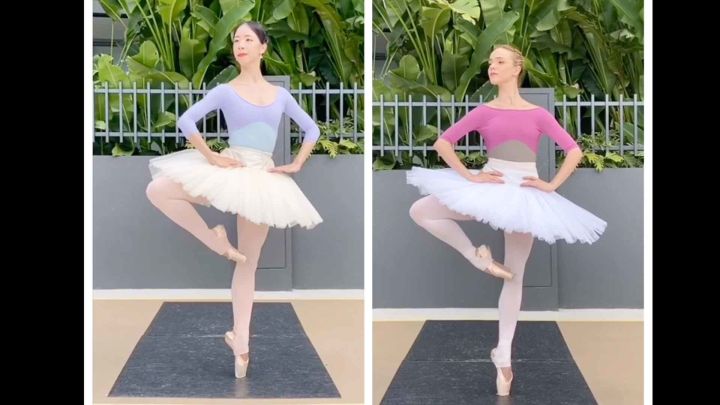 Raymonda Act 3 Coda
Neneka Yoshida and Laura Tosar
This excerpt is traditionally performed as Raymonda's coda solo, during the wedding festivities of Raymonda and Jean de Brienne.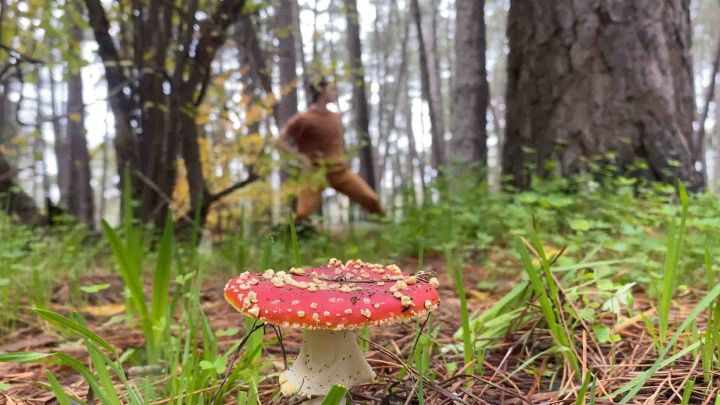 Observation of Nature
Callum Mackie
"And into the forest I go to lose my mind and find my soul." John Muir 

We have all been given the unique opportunity to observe nature. An alive, beautiful forest near my home has been a place I have spent most of my time over this period and after many hours spent there, I feel a connection with it... I feel as if we are observing each other now.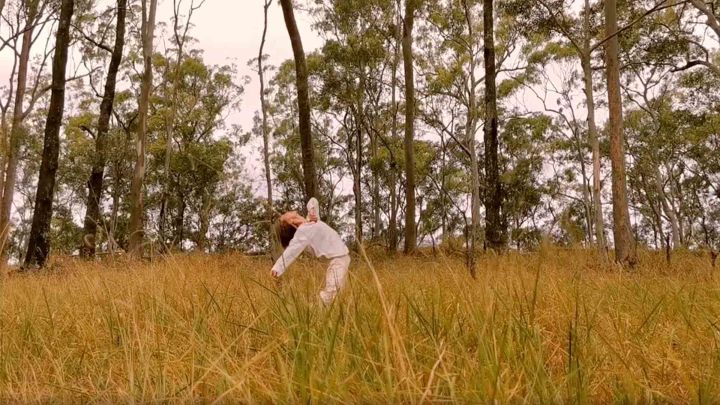 Of Light and Love
Isaak Mclean
Of Light and Love is an exploration of the possibilities of growth and expansion and the massive capacity for authentic expression, that comes through embracing ones communities, surrounding spaces and energies. Through freedom with love comes authentic self expression. Of light and love.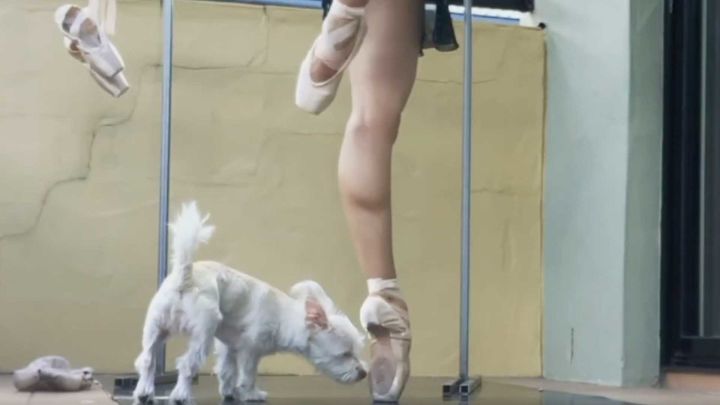 I Love to...Whoopsie Daisy
Queensland Ballet and guests
This segment should ally your concerns about our dancers being too perfect! Dancing in isolation has been demanding with communication, consistent flooring, accommodating nature, navigating others, and cramped space. It will also highlight some of the unique challenges faced in assembling 60 dancers: 60 stories.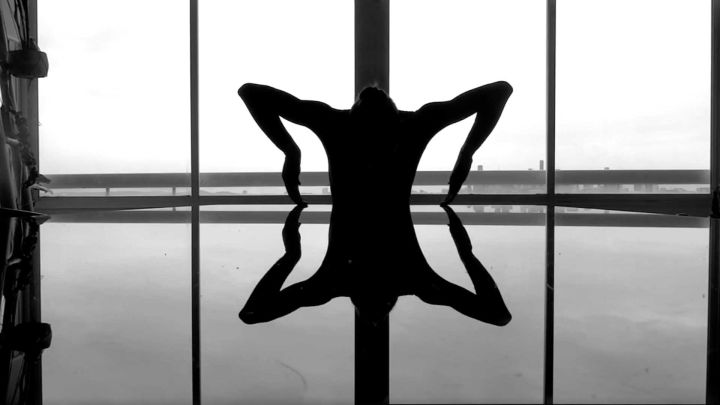 Reflection
Laura Hidalgo
Projection is reflection. The more we fill ourselves with love. The more love we reflect into the world and back to ourselves. Then we expand!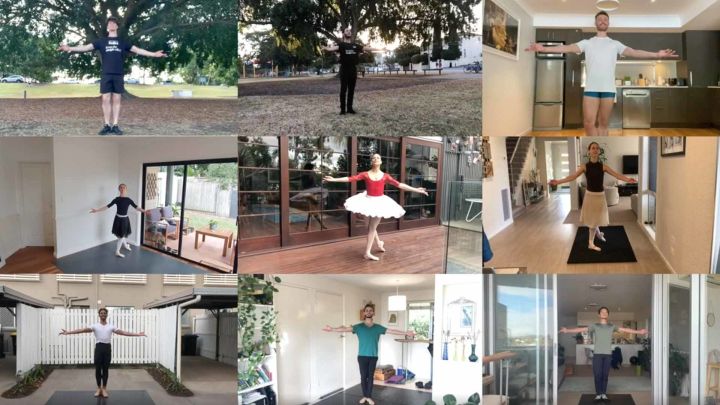 Coda Magnifica Grande
Queensland Ballet
This piece is inspired by our senior dancers' class, which habitually finishes with 15-20 minutes of coda steps. In the context of romantic and classical era ballets, codas are the precursor to an emotional exclamation; be it close to death, or at the height of love! 

Dedicated to YOU, our supporters, who are keeping the magic alive: thank you, applause, bravo! 
60 dancers: 60 stories
Project coordinator – Matthew Lawrence.
Choreographic mentors - Greg Horsman, Rani Luther, Matthew Lawrence, and Queensland Ballet's Resident Choreographers; Natalie Weir and Jack Lister.
Music collaborators - Nigel Gaynor, Stefanie Gumienik and Brett Sturdy.
Editing mentors - Tamara Hanton, Heather O'Keeffe, Yanni Dubler and Wim Broeckx