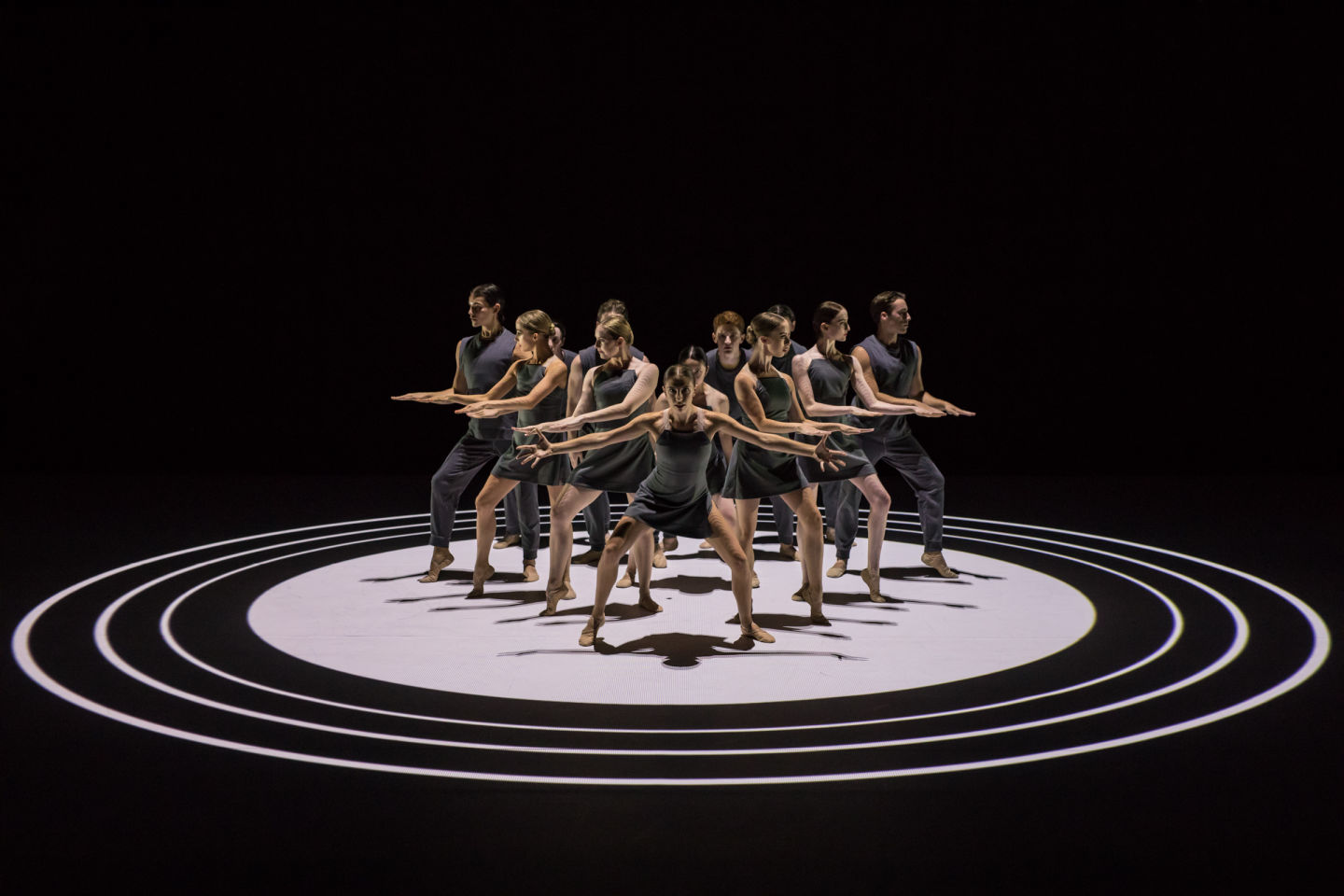 Your invitation to join us as a supporter in London
Image: 2019 Jette Parker Young Artists in Loughlan Prior's The Appearance of Colour by David Kelly.
After waiting for so long, we can finally travel internationally, and we're so excited! We have planned an incredible itinerary for our supporters to join us in London to celebrate. Designed to show you the best of London's abundant cultural scene, our tour pairs world-class hospitality with behind-the-scenes access to unparalleled arts experiences.
Our wonderful Jette Parker Young Artists will be showcasing their talents at the Royal Opera House on this tour, as part of the Next Generation Festival, and we'd love you to be there to raise a glass with us, sharing in this unique moment with our artists and creatives.
This invitation is open to all - we invite you to share it with others who may enjoy this special opportunity. We know that early June is only a few short weeks away, so if you're unable to attend the full tour, we will be delighted to work with you so you can 'choose your own adventure' and attend the experiences that inspire you the most.
Express your interest
About our Jette Parker Young Artist Program
82 young dancers have been beneficiaries of Queensland Ballet's Jette Parker Young Artist program since its inception in 2014. The artistic lives of our gifted young dancers in West End are echoed each day by exceptional early-career conductors, stage directors, singers and répétiteurs some 16,500km away in Covent Garden, where the Royal Opera House established their own Jette Parker Young Artists Programme in 2001.
For the first time, over two decades later, these two communities of young artists will come together in a celebration of their art to perform under the direction of a group of talented artistic staff.
Our young artists are so proud to be presenting Southern Lights to London audiences - a breathtaking triple bill featuring three contemporary works by our Associate Choreographer Jack Lister, our Resident Choreographer Natalie Weir, and Royal New Zealand Ballet's Resident Choreographer Loughlan Prior.
The holistic Jette Parker Young Artist Program enables dancers to enhance their craft through access to world-class repertoire, mentorship, and performance opportunities as they embark on their professional careers.
We couldn't toast to this wonderful and unique occasion without sharing it with our community, which is why we've curated this Supporters' Tour offering enriching cultural experiences scheduled alongside performances at the Linbury Theatre.
Find out more about the Tour and how you can be involved below.
This tour will be an extremely special and exclusive, once-in-a-lifetime experience.
Please note that itinerary activities are subject to change pending the size of our party and venue capacities, and a final itinerary will be provided closer to the tour.

Join us in-studio at Beesley Street from 4:30pm, to view our Jette Parker Young Artists rehearsing one of the pieces they'll present in London. We'll then enjoy a lovely meal together at Covent Garden, West End to meet each other, and be excited about the tour, while talking through our itinerary and tour documents.
We'll meet at the Royal Opera House to view the Royal Ballet or Royal Ballet Upper School taking daily company class. After a casual lunch nearby, we'll be taken on a private tour of the Royal Opera House, before enjoying a beautiful dinner with half of our Jette Parker Young Artists at Red Farm, Covent Garden.
Enjoy a morning in London at your leisure, before we meet at Tate Modern for lunch, prior to a private tour of their permanent collection. We'll enjoy a Friday evening dinner together at Roka Aldwych.
Plan your own day of relaxation or sight-seeing, prior to the evening performance of Southern Lights at the Royal Opera House. We'll enjoy exclusive interval hosting, as well as a post-performance event together with our Young Artists, Queensland Ballet staff and local guests.
You are free to spend Sunday exploring London independently, with optional attendance at the second performance of Southern Lights in the afternoon.
We are putting together a surprise cultural experience for this day. It'll be a very special affair so stay tuned for details. In the evening, we'll enjoy the final performance of Southern Lights, followed by a casual post-performance celebration with our young artists.
Enjoy your morning in London prior to meeting at The Ritz for a traditional afternoon tea with champagne. In the evening we'll come together for an insight event in the Linbury Theatre - a collaboration between the Australian Embassy and the British Council featuring a Q&A and an excerpt of Jack Lister's new work. Following this unique occasion, we'll enjoy a supper nearby.
All itinerary items listed above are included, except for meals and activities during independent time at your leisure. We will provide a recommended list of attractions and restaurants to enjoy during these times. All supporter guests are responsible for their own airfares, airport transfers, transport to meeting places on the tour, accommodation, necessary visas, travel insurance and vaccinations as required – these are not included in the tour fee.
We ask our guests to consider their personal well being, as the decision to travel is made at their risk.
#About the choreographers
Jack Lister
Rising star Jack Lister, 25, is no stranger to London audiences, premiering his incredible contemporary work A Brief Nostalgia at Birmingham Royal Ballet in London in 2019. Recently named Queensland Ballet's new Associate Choreographer, Lister expertly uses music, sets, lighting and powerful choreography to exude mood and atmosphere.
Natalie Weir
Natalie Weir is celebrated internationally for her highly physical partner work, organic movements, and touching insight into humanity. Inspiration for her piece Fallen evolved from working with the Young Artists, tuning into their passion, emotion and raw talent.
Loughlan Prior
Loughlan Prior's The Appearance of Colour integrates music, digital animation, lighting, and dance to create a rich sensory feast for audience members. Inspired by the first transmissions of colour television in the 1970s, the work explores diverse tonal states between black and white and bold colour. This interdisciplinary dance work aims to explore our human response to colour emerging from darkness.
Philanthropy is the beating heart of our art form. It gifts us both the opportunity and responsibility to be visionary, and empowers us to present world-class art in Queensland and on the world stage.
You can secure your place on this tour through a non-deductible tour fee, together with a tax-deductible supporters' donation, which will help to underwrite Queensland Ballet's costs for this tour, together with a cultural diplomacy grant awarded by the Australian Government.
If you are an existing donor to Queensland Ballet, your annual giving helps us to plan with integrity, so we respectfully ask that you consider your support of this tour as being additional to your regular gift/s.
Not only will you be in the room as our Young Artists proudly showcase local works to international audiences, your support will also help to enable this incredible opportunity.
This invitation is open to all - please do share this invitation with fellow balletomanes who may be inspired to journey with us.
Express your Interest
To express your interest, please contact us for a personal conversation, or complete the form online using the link below. The size of our touring party is limited, so please do contact us as soon as possible if you are interested in joining the tour. You can reach us by calling 07 3013 6666 and asking for the Foundation team, or by sending an email to foundation@queenslandballet.com.au.
Express your interest
Image: 2021 Jette Parker Young Artists in Natalie Weir's Fallen. by David Kelly
The Jette Parker Young Artist Program is generously supported by Oak Foundation, Barbara Bedwell, Brett & Maria Clark, Dr Ben Duke & Ms Cate Heyworth-Smith QC, Frazer Family Foundation, Goldburg Family Foundation, Patricia Macdonald Memorial Foundation, Mr Simon Mordant AO & Mrs Catriona Mordant, CP Morris Fund at the APS Foundation and Liz & Graeme Wikman.
Support our Young Artists >
Cost
Please contact us for further information.

You can reach us by calling 07 3013 6666 and asking for the Foundation team, or by sending an email to foundation@queenslandballet.com.au.